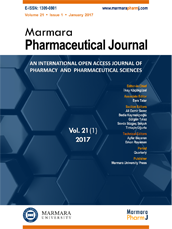 Editor-in-Chief
İlkay Küçükgüzel
Associate Editor
Aslı Türe
Online ISSN
2630-6344
Publisher
Marmara University
Frequency
Bimonthly (Six issues / year)
Abbreviation
J.Res.Pharm.
Former Name
Marmara Pharmaceutical Journal
Journal of Research in Pharmacy
2020 , Vol 24 , Issue 5
Total phenolic content, cyclooxygenases, α-glucosidase, acetylcholinesterase, tyrosinase inhibitory and DPPH radical scavenging effects of Cornus sanguinea leaves and fruits
1Department of Biochemistry, Faculty of Pharmacy, Karadeniz Technical University, Trabzon, Turkey
2Department of Pharmacognosy, Faculty of Pharmacy, Hacettepe University, Ankara, Turkey
DOI :

10.35333/jrp.2020.217
The aim of the present study was to investigate total phenolic content and biological effects of methanol extracts from Cornus sanguinea L. leaves (LME) and fruits (FME). Total phenolic contents, COX-1/COX-2, α-glucosidase, AChE, tyrosinase inhibitory and DPPH radical scavenging effects of both extracts were investigated by using spectrophotometric methods. The total phenolic contents of LME and FME were determined as 191.14 ± 4.84 and 31.51 ± 2.68 mg GAE/g dry weight, respectively. LME inhibited COX-1 enzyme 70.71 ± 1.88% and 79.38 ± 0.92% at 50 and 100 μg/mL. LME had higher COX-1 and COX-2 inhibitory effects than that of FME. LME inhibited α-glucosidase stronger than positive control, acarbose. On the other hand, both extracts showed lower AChE inhibition actions compared to positive control, galantamine. Moreover, LME had higher tyrosinase inhibitory effect than FME. Both extracts scavenged DPPH radical in a concentration-dependent manner. Also, LME had stronger scavenging effect than that of FME. To our knowledge, current work is the first report on tyrosinase, AChE, as well as COX-1 inhibitory properties of C. sanguinea. These results suggested that LME of C. sanguinea have a promising potential for the treatment of several disorders but further studies are needed to support the this assumption.
Keywords :

Acetylcholinesterase; antioxidant; cyclooxygenase; Cornus sanguinea; α-glucosidase; tyrosinase