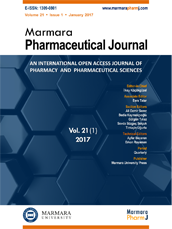 Editor-in-Chief
Hatice Kübra Elçioğlu
Vice Editors
Levent Kabasakal
Esra Tatar
Online ISSN
2630-6344
Publisher
Marmara University
Frequency
Bimonthly (Six issues / year)
Abbreviation
J.Res.Pharm.
Former Name
Marmara Pharmaceutical Journal
Journal of Research in Pharmacy
2019 , Vol 23 , Issue 6
Betanin prohibits cisplatin-induced nephrotoxicity through targeting mitochondria
1Kidney Research Center, Tabriz University of Medical Sciences, Tabriz, Iran
2Russian Institute for Advanced Study, Moscow State Pedagogical University, 1/1, Malaya Pirogovskaya St., Moscow, Russian Federation 119991
3Department of Biophysics and Molecular Biology, Baku State University, Baku, Azerbaijan
4Joint Ukraine-Azerbaijan International Research and Education Center of Nanobiotechnology and Functional Nanosystems, Drohobych Ukraine & Baku, Azerbaijan
5Students Research Committee, Tabriz University of Medical Sciences, Tabriz, Iran
DOI :

10.35333/jrp.2019.78
Cisplatin is a common chemotherapeutic agent against a wide range of solid tumors. The clinical application of cisplatin is restricted due to its adverse effect, mainly nephrotoxicity. The aim of this study was to examine whether betanin (a natural pigment) is able to alleviate cisplatin-induced renal injury. Rats received cisplatin (10 mg/kg, single dose) after 3 consecutive days of betanin (100 mg/kg) oral gavage. Serum and urine samples were collected and kidney mitochondria were isolated from the treated groups for the further evaluations. Cisplatin-treated animals revealed altered biochemical evidence of nephrotoxicity, which were significantly improved in betanin pre-treated groups. On the other hand, betanin modulated mitochondrial parameters such as mitochondrial dehydrogenase activity, mitochondrial swelling, mitochondrial ATP content, mitochondrial depolarization, lipid peroxidation, and cytochrome c release. These data propose the possible protective role of betanin in cisplatin-associated nephrotoxicity in which the mechanism appears to be a prohibition of chemical disturbances and mitochondrial damage.
Keywords :

Cisplatin; mitochondria; betanin; nephrotoxicity; kidney