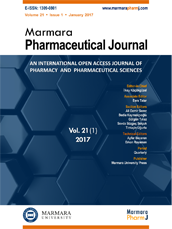 Editor-in-Chief
Hatice Kübra Elçioğlu
Vice Editors
Levent Kabasakal
Esra Tatar
Online ISSN
2630-6344
Publisher
Marmara University
Frequency
Bimonthly (Six issues / year)
Abbreviation
J.Res.Pharm.
Former Name
Marmara Pharmaceutical Journal
Journal of Research in Pharmacy
2019 , Vol 23 , Issue 3
Antimicrobial activity of three Scutellaria L. species from Turkey
1Department of Pharmaceutical Botany, Faculty of Pharmacy, Hacettepe University, Ankara , Turkey
2Department of Pharmaceutical Microbiology, Faculty of Pharmacy, Hacettepe University, Ankara , Turkey
3Department of Pharmacognosy, Faculty of Pharmacy, Karadeniz Technical University, Trabzon, Turkey
DOI :

10.12991/jrp.2019.162
Plant-sourced antimicrobials are known for their therapeutic potency against multi-drug-resistant pathogens. The members of Scutellaria L. have been used to cure several diseases in East Asia, Europe, and North America. The genus Scutellaria belonging to Lamiaceae family is composed of around 360 species worldwide and 18 species in Turkey. In this study, 36 extracts prepared with different solvents from aerial parts and roots of S. salviifolia Benth., S. diffusa Benth. and S. pontica C. Koch were investigated for their antimicrobial activity against four bacteria (Escherichia coli ATCC 25922, Enterococcus faecalis ATCC 29212, Pseudomonas aeruginosa ATCC 27853, Staphylococcus aureus ATCC 29213) and three yeasts (Candida albicans ATCC 90028, C. krusei ATCC 6258, C. parapsilosis ATCC 90018) by using the broth microdilution method. Gentamicin, vancomycin and fluconazole were used as positive control. According to our results, all of the tested extracts showed stronger antimicrobial activity against yeasts than bacteria. The chloroform extract of S. salviifolia root showed the highest antifungal effect against C. krusei with 32 μg/ml MIC value compared with all the tested extracts and the positive control fluconazole (64 μg/ml MIC value).
Keywords :

Scutellaria; Lamiaceae; plant extract; antimicrobial activity; minimum inhibitory concentration