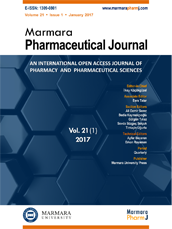 Editor-in-Chief
Hatice Kübra Elçioğlu
Vice Editors
Levent Kabasakal
Esra Tatar
Online ISSN
2630-6344
Publisher
Marmara University
Frequency
Bimonthly (Six issues / year)
Abbreviation
J.Res.Pharm.
Former Name
Marmara Pharmaceutical Journal
Journal of Research in Pharmacy
2019 , Vol 23 , Issue 2
The influence of melatonin supplementation against aluminum-induced toxicity in brains of male rats
1Department of Biology, Faculty of Science, İstanbul University-Cerrahpaşa, İstanbul, Turkey
2Department of Chemistry, Faculty of Engineering, İstanbul University, Avcılar 34320 İstanbul, Turkey
DOI :

10.12991/jrp.2019.134
Aluminum (Al), an ubiquitous element in nature, enters the body primarily through gastrointestinal tract, respiratory system and skin. Being a powerful neurotoxin for human brain, Al was reported to be involved in the etiology of Alzheimer's disease due to its easy access and accumulation in the central nervous system. Melatonin (Mel) is a tryptophan-derived neurohormone in animals and plants, and produced in the pineal gland of all mammalian species. The present study examines the effects of Mel on Al-induced oxidative stress, inflammation, tissue factor production and brain damage in rat brain. Wistar albino rats were divided into four groups. Group I: control animals; Group II: rats injected with 10 mg/kg Mel; Group III: rats injected with 5 mg/kg Al2(SO4)3; and Group IV: rats injected combination of Al and Mel (5 mg/kg Al2(SO4)3 and 10 mg/kg Mel). Animals were injected three times a week for one month. At the end of the month, rats were sacrificed, their brains were removed. It was found that lipid peroxidation, protein carbonyl, advanced oxidation protein products, hydroxyproline levels, tissue factor, catalase, superoxide dismutase, glutathione peroxidase, glutathione reductase, myeloperoxidase, acetylcholine esterase, alkaline phosphatase, acid phosphatase and glucose-6-phosphate dehydrogenase activities were increased, while paraoxonase, arylesterase, sodium potassium ATPase activities and glutathione levels were decreased in the Al-treated group. Mel treatment reversed these changes by demonstrating significant antioxidant effects. Results indicated that Mel has potential therapeutic value against Al-induced oxidative stress in the rat brain tissue and these effects may be related to its antioxidant activities.
Keywords :

Aluminum; melatonin; brain; oxidative stress; tissue factor levels