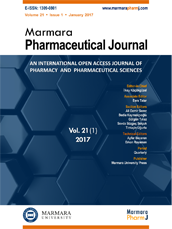 Editor-in-Chief
Hatice Kübra Elçioğlu
Vice Editors
Levent Kabasakal
Esra Tatar
Online ISSN
2630-6344
Publisher
Marmara University
Frequency
Bimonthly (Six issues / year)
Abbreviation
J.Res.Pharm.
Former Name
Marmara Pharmaceutical Journal
Marmara Pharmaceutical Journal
1987 , Vol 3 , Issue 2
High-pressure liquid chromatographic assay of mephenoxalone
In this paper, a high-pressure liquid chromatographic method was developed for determination of mephenoxalone using clopamide as an internal standard. C18-column was used; the mobile phase was a mixture of 0.01M ammonium phosphate dibasic and methanol (65:35). The peak area is linear (r=0.9995) over a 80-400 μg/ml concentration range.
Keywords :