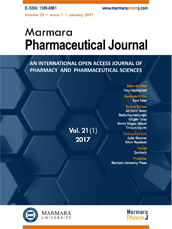 Editor-in-Chief
Hatice Kübra Elçioğlu
Vice Editors
Levent Kabasakal
Esra Tatar
Online ISSN
2630-6344
Publisher
Marmara University
Frequency
Bimonthly (Six issues / year)
Abbreviation
J.Res.Pharm.
Former Name
Marmara Pharmaceutical Journal
Marmara Pharmaceutical Journal
2017 , Vol 21 , Issue 3
Chemical composition, acute and sub-acute toxicity of Satureja khuzestanica essential oil in mice
1Razi Herbal Medicines Research Center, Lorestan University of Medical Science, Khorramabad, Iran
2Department of Parasitology, Faculty of Veterinary, Borujerd Branch, Islamic Azad, University, Borujerd, Iran
3School of Allied Medical Sciences, Lorestan University of Medical Sciences, Khorramabd, Iran
4Departmentof Pathobiology, Faculty of Veterinary Medicine, Lorestan University, Khorramabad, Iran
5Research Center for Tropical and Infectious Diseases, Kerman University of Medical Sciences, Kerman, Iran
DOI :

10.12991/marupj.318614
To date, herbal medicines are the important source in the development of new drugs to remedy various diseases. However, it is crucial to provide scientific justification of these drugs to determine their side effects in treatments. This study was aimed to evaluate the chemical composition, acute and subacute toxicity of Satureja khuzestanica essential oil (SKEO) in a mice model. Plant materials of S. khuzestanica were collected from the rural regions of Lorestan Province, west of Iran. Gas chromatography/mass spectrometry (GC/MS) analysis was performed to determine the main components of SKEO. To assess the acute toxicity, 0.5, 1, 2 and 4 ml/kg doses of SKEO were injected intraperitoneally into four groups of six mice. The number of deaths was counted at 24 h after the treatment. Sub-acute toxicity of the effects of SKEO was evaluated by determine the clinical chemistry and hematological parameters of the treated mice after oral administration of SKEO at the doses of 0.2, 0.4 and 0.6 ml/kg, respectively, for 14 consecutive days. Twenty-three compounds were identified in SKEO by GC/MS analysis, in which the main component was carvacrol (64.4%). The LD50 value of intraperitoneal injection of SKEO was 1.79 ml/kg and the maximum nonfatal dose was 1.13 ml/ kg. No death was observed at the doses of 0.2 and 0.4 ml/kg, while in the group receiving 0.8 ml/kg of SKEO, only one mouse died (12.5%). There was no significant difference between the biochemical and hematological parameters following the oral administrations of SKEO at the used doses of 0.2, 0.4 and 0.8 ml/ kg and the controls (P>0.05). The obtained results in this work showed that SKEO at the tested doses had no significant toxicity on the liver and kidney tissues as well as on the hematological parameters in the mice. Therefore, SKEO could be safe for the mammalian host at the used doses.
Keywords :

GC/MS; Acute and sub-acute toxicity; Satureja khuzestanica essential oil; Mice