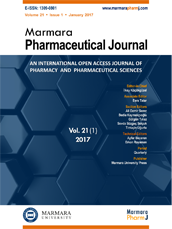 Editor-in-Chief
Hatice Kübra Elçioğlu
Vice Editors
Levent Kabasakal
Esra Tatar
Online ISSN
2630-6344
Publisher
Marmara University
Frequency
Bimonthly (Six issues / year)
Abbreviation
J.Res.Pharm.
Former Name
Marmara Pharmaceutical Journal
Marmara Pharmaceutical Journal
2017 , Vol 21 , Issue 1
Skin Whiteners An Overview
1T.C. Sağlık Bakanlığı Türkiye İlaç ve Tıbbi Cihaz Kurumu, Çankaya/Ankara
DOI :

10.12991/marupj.259880
It has known that the demand for skin whitening application has increased in the world and use of systemic or locally effective skin whitening products, whether for lightening natural skin color or to remove dark spots caused by a variety of reasons. Hyperpigmentation which is darkening of skin color known that can be caused by exposure to sun/UV rays, various chemicals (drug, cosmetics, etc.), certain diseases, mechanical trauma, chemical peels, laser applications, and in response to acne or some skin diseases. After examining the reasons of hyperpigmentation, the following may be applied for the removal; the use of products intended for depigmentation, chemical peelings, cryoscopy, laser treatment or surgery. The active compounds for depigmentation can be grouped according to their mechanism of action as the ones effective during premelanin synthesis, during melanin synthesis, after the melanin synthesis and others. When the skin whitening active ingredients and formulations examined structurally it is seen that they are appiled as pharmaceutical forms of dermal preparations (creams, emulsions, gels, solutions, etc.) or oral preparations (capsule, tablet, etc.) of biotechnological, botanical or chemical originated actives. In recent years it is seen that these actives are prepared by utilising nanotechnology and pharmaceutical carriers (nanoemulsions, nanospheres, nanocapsules, nanosomes, solid lipid nanoparticles, nanostructured lipid carriers, niosomes, ethozomes, liposomes, etc.) and launched to the market in the category of drug, cosmetic or food in accordance with the scope of the international legal differences.
Keywords :

Hyperpigmentation, skin whiteners, drug, cosmetics, pharmaceutical form, carrier systems