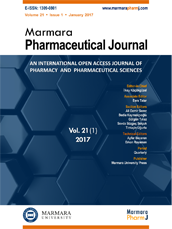 Editor-in-Chief
Hatice Kübra Elçioğlu
Vice Editors
Levent Kabasakal
Esra Tatar
Online ISSN
2630-6344
Publisher
Marmara University
Frequency
Bimonthly (Six issues / year)
Abbreviation
J.Res.Pharm.
Former Name
Marmara Pharmaceutical Journal
Marmara Pharmaceutical Journal
2015 , Vol 19 , Issue 3
Evaluation of Pharmacy Manager"s Knowledge and Attitude on Extemporaneous Preparation
1Marmara Üniversitesi, Eczacılık Fakültesi
2Marmara Üniversitesi, Eczacılık Fakültesi, Farmasötik Teknoloji A.D.
3Marmara Üniversitesi, Eczacılık Fakültesi, Klinik Eczacılık A.D.
DOI :

10.12991/mpj.201519399879
In this work, it is aimed to determine pharmacists" attitude, level of knowledge on extemporaneous formulations including how accurate the formulations are prepared, the problems pharmacists face during preparation, and their approach to solve problems on extemporaneous preparation. Additionally with this work, we aim to gather data on frequently written extemporaneous prescriptions during the recent years.

In this work, a questionnaire with the title of "Evaluation of pharmacy manager"s knowledge and attitude on extemporaneous preparation" was applied to pharmacy managers. This questionnaire was completed by 54 community pharmacists. According to our results, it was found that extemporaneous preparations were prescribed to all of the pharmacies that the questionnaire applied, however pharmacists were confronted with various problems during preparation of the formulations.
Keywords :

Extemporaneous compounding, community pharmacy, questionnaire