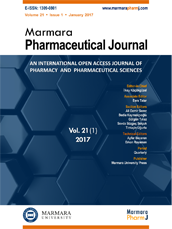 Editor-in-Chief
Hatice Kübra Elçioğlu
Vice Editors
Levent Kabasakal
Esra Tatar
Online ISSN
2630-6344
Publisher
Marmara University
Frequency
Bimonthly (Six issues / year)
Abbreviation
J.Res.Pharm.
Former Name
Marmara Pharmaceutical Journal
Marmara Pharmaceutical Journal
2012 , Vol 16 , Issue 3
Herbal medicines in the pharmacies in Turkey
1Marmara Üniversitesi Eczacılık Fakültesi, Farmakognozi Anabilim Dalı, İstanbul, Türkiye
2Eczacı, Avcılar, İstanbul, Türkiye
DOI :

10.12991/201216396
In this study, pharmacies which is in Turkey in 2012, the Ministry of Health licensed herbal medicines is examined and the active compound in the formulation of a standardized extract of herbal drug or drug preparation are discussed in the preparations. The plant-derived pure compounds (atropine, morphine, ephedrine, etc.) obtained by chemical processes are not herbal medicines. Therefore excluded from this study. In this context, the content of herbal medicines plants used parts, the active compounds, uses of effects are investigated. Examined these plants are Aesculus hippocastanum L., Amygdalus communis L., Allium sativum L., Camellia sinensis (L.) Kuntze (Thea sinensis L.), Capsicum annuum L., Cassia acutifolia Del. (C. angustifolia Vahl.), Centella asiatica L., Cimicifuga racemosa L., Cola nitida (Vent.) Schott & Endl., Eucalyptus globulus Labill., Foeniculum vulgare Miller, Ginkgo biloba L., Hamamelis virginiana L., Harpagophytum procumbens DC, Hedera helix L., Lavandula angustifolia Miller, Mentha piperita L., Passiflora incarnata L., Pelargonium sidoides DC., Pinus brutia Tenn., Populus sp., Rheum officinale Baill., Ricinus communis L., Serenoa repens (W. Bart.) Small, Silybum marianum L., Thymus vulgaris L., Triticum aestivum L., Valeriana officinalis L, Vitex agnus-castus L., Vitis vinifera L., Zingiber officinale (Roscoe). As a result, 44 herbal medicines licensed from The Ministry of Health were determined in the pharmacies of Turkey in 2012.
Keywords :

herbal medicine, pharmacy, Turkey