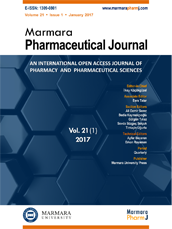 Editor-in-Chief
Hatice Kübra Elçioğlu
Vice Editors
Levent Kabasakal
Esra Tatar
Online ISSN
2630-6344
Publisher
Marmara University
Frequency
Bimonthly (Six issues / year)
Abbreviation
J.Res.Pharm.
Former Name
Marmara Pharmaceutical Journal
Marmara Pharmaceutical Journal
2012 , Vol 16 , Issue 2
Formulation technologies of orally fast disintegrating tablets
1Ankara Üniversitesi, Eczacılık Fakültesi, 5. sınıf Öğrencisi, Ankara, Türkiye
2Ankara Üniversitesi, Eczacılık Fakültesi, Farmasötik Teknoloji Anabilim Dalı, Ankara, Türkiye
DOI :

10.12991/201216405
Methods to improve patient's compliance have always attracted scientists towards the development of new drug delivery systems. Among them, orally fast disintegratings tablets (FDTs), have acquired an important place in the drug market by overcoming previously encountered administration problems and contributing to extension of patent life. FDTs have the unique property of rapidly disintegrating and/or dissolving and releasing the drug as soon as they come in contact with saliva. Therefore, these tablets are very practical for the patient population that include bed ridden, dysphagic, geriatric or pediatric and phychic patients.

This article focuses on the technologies available and the advances made so far in the field of fabrication of FDTs along with their advantages and limitations.
Keywords :

orally fast disintegrating tablets, formulation technologies of orally fast disintegrating tablets