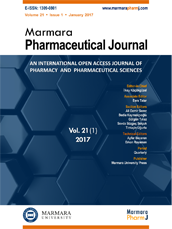 Editor-in-Chief
Hatice Kübra Elçioğlu
Vice Editors
Levent Kabasakal
Esra Tatar
Online ISSN
2630-6344
Publisher
Marmara University
Frequency
Bimonthly (Six issues / year)
Abbreviation
J.Res.Pharm.
Former Name
Marmara Pharmaceutical Journal
Marmara Pharmaceutical Journal
2012 , Vol 16 , Issue 1
Cosmetics
Ankara Üniversitesi, Eczacılık Fakültesi, Farmasötik Teknoloji Anabilim Dalı, Ankara, Türkiye
DOI :

10.12991/201216414
Purpose of cosmetic using is to clean any part of the body or make it more beautiful or give an attractive and different appearance. Application of preparations, preparation of products, therapy methods and tools that are used in these therapies are in the interest area of the cosmetics. In this study, definition of cosmetics and cosmeceuticals, history of cosmetics, classification of cosmetics and cosmetics that are applied to the skin and some of the herbal products which are used in skin cosmetics and daily skin care is told.
Keywords :

cosmetics, history of cosmetics, classification of cosmetics, cosmetics that are applied to the skin, skin care