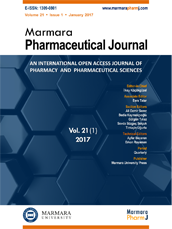 Editor-in-Chief
Hatice Kübra Elçioğlu
Vice Editors
Levent Kabasakal
Esra Tatar
Online ISSN
2630-6344
Publisher
Marmara University
Frequency
Bimonthly (Six issues / year)
Abbreviation
J.Res.Pharm.
Former Name
Marmara Pharmaceutical Journal
Marmara Pharmaceutical Journal
2011 , Vol 15 , Issue 2
Serum Ochratoxin A Levels in Geriatric Population
1Hacettepe Üniversitesi Eczacılık Fakültesi, F.Toksikoloji Anabilim Dalı, Ankara, Türkiye
DOI :

10.12991/201115433
Ochratoxin A (OTA) is one of the most abundant food-contaminating mycotoxins. It is nephrotoxic to all animal species studied and also immunosuppressive, hepatotoxic, teratogenic and genotoxic. There is limited number of studies on the levels of OTA in humans. The aim of this study was to determine serum levels of OTA in geriatric population as well as to establish its relation with, feeding habits and body mass index. Serum OTA levels were measured by enzyme immunoassay in geriatric study group (mean age: 72.8 ± 5.6, n=30) living in Mediterranean and Central Anatolia regions. We found that the mean OTA level in women (0.601 ± 0.012 ng/ml) was higher (approximately 2 fold) than in men (0.453 ± 0.078 ng/ml) (p>0.05). Serum OTA levels in Central Anatolia were found to be higher than Mediterranean Region (2.5 fold) (p<0.05) possibly due to feeding habit differences between the sexes and regions. On the other hand, daily intake levels of OTA in all study groups were calculated below the tolerable daily intake levels approved by regulatory authorities. It can be considered that the exposure to different mycotoxins along with OTA can cause synergistic or additive effects particularly in geriatric population.
Keywords :

Geriatric population, ochratoxin A, nephrotoxicity, ELISA, Turkey