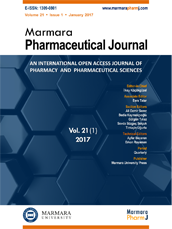 Editor-in-Chief
Hatice Kübra Elçioğlu
Vice Editors
Levent Kabasakal
Esra Tatar
Online ISSN
2630-6344
Publisher
Marmara University
Frequency
Bimonthly (Six issues / year)
Abbreviation
J.Res.Pharm.
Former Name
Marmara Pharmaceutical Journal
Journal of Research in Pharmacy
2023 , Vol 27 , Issue 2
Evaluation and characterization of orally disintegrating films loaded donepezil hydrochloride for Alzheimer's disease
1Department of Pharmaceutical Technology, Faculty of Pharmacy, Marmara University, Başıbüyük 34854 İstanbul, Türkiye
DOI :

10.29228/jrp.369
Nowadays, innovative and more effective drug dosage forms continue to be researched and developed compared to traditional drug dosage forms. The importance of orally disintegrating films (ODFs) in current studies and advancements cannot be overstated. This study aims to create the optimum ODF formulations using pullulan and lycoat with donepezil hydrochloride (donepezil HCl). Plasticizers such as polyethylene glycol 400 (PEG-400) and glycerine were used to form flexible films. In the characterization studies of the films produced by the solvent casting technique: determination of morphology, determination of folding, determination of disintegration time, determination of thickness, determination of swelling, determination of pH, determination of mass uniformity, determination of In vitro release, and determination of content uniformity studies were carried out. According to the results obtained, the nonbrittle, smooth-surfaced films were disintegrated in the mouth in an average of 35 seconds. Since the 10th minute, more than 85% of the active pharmaceutical ingredient (API) has been revealed. These values suggested that the pullulan polymer showed better film-forming capacity when used with lycoat polymer. Ultraviolet (UV)-visible spectrum studies were carried out to validate donepezil HCl. Thanks to the ODFs containing donepezil HCl, an effective and safe, innovative clinical use has been achieved in the treatment of diseases such as dementia and Alzheimer, which are characterized by a decrease in daily life activities and atrophy in cognitive abilities.
Keywords :

Orally disintegrating film; donepezil hydrochloride; pullulan; lycoat