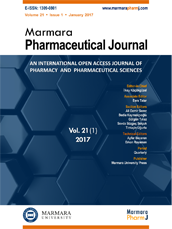 Editor-in-Chief
Hatice Kübra Elçioğlu
Vice Editors
Levent Kabasakal
Esra Tatar
Online ISSN
2630-6344
Publisher
Marmara University
Frequency
Bimonthly (Six issues / year)
Abbreviation
J.Res.Pharm.
Former Name
Marmara Pharmaceutical Journal
Journal of Research in Pharmacy
2023 , Vol 27 , Issue 2
Impaired vascular function induced by aging: Role of irisin and perivascular adipose tissue
1Marmara University School of Medicine, Department of Physiology
2Tekirdağ Namık Kemal University School of Medicine, Department of Histology and Embryology
3Marmara University School of Medicine, Department of Histology and Embryology
DOI :

10.29228/jrp.356
The aim of the study is to explain the possible effects of exercise-induced novel peptide irisin on endothelial function accompanied by perivascular adipose tissue (PVAT) in aortas of both natural aging and Dgalactose (D-Gal) aging mimetic rats. Female Sprague-Dawley rats were randomly divided into 6 groups (n=10/per group): sedentary young group (SY), exercised young group (EY), sedentary aging group (SA), exercised aging group (EA), sedentary D-Gal (300 mg/kg/day, i.p., 9 weeks) induced aging group (S+D-Gal), exercised D-Gal induced aging group (E+D-Gal). Cardiac and aortic samples were collected for biochemical and histopathological examinations. The aortas were taken for contractile response studies in the absence or presence of perivascular adipose tissue (PVAT-/+). The levels of irisin in both plasma and PVAT were detected. Regardless of the models the vaso-relaxant effects of irisin were shown alone and age-related vascular dysfunction has also been recorded compared to the SY group these agerelated impaired irisin responses were found to be improved by regular exercise. The plasma and PVAT irisin levels were decreased by aging and exercise reversed this decrement which is verified by the immune expression of irisin in aortic and PVAT tissues. Our results show the differences in vascular function and PVAT in aging and the contribution of PVAT to the response of irisin with exercise in two different aging models.
Keywords :

exercise; aging; vascular dysfunction; irisin; PVAT