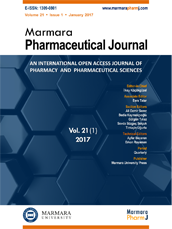 Editor-in-Chief
Hatice Kübra Elçioğlu
Vice Editors
Levent Kabasakal
Esra Tatar
Online ISSN
2630-6344
Publisher
Marmara University
Frequency
Bimonthly (Six issues / year)
Abbreviation
J.Res.Pharm.
Former Name
Marmara Pharmaceutical Journal
Journal of Research in Pharmacy
2021 , Vol 25 , Issue 1
Hydroalcoholic extract of Arum orientale ameliorates myocardial infarction induced by isoproterenol in rats
1Department of Pharmacology, Faculty of Pharmacy, Urmia University of Medical Sciences, Urmia, Iran
2Department of Comparative Biomedical Sciences, School of Advanced Medical Sciences and Technologies, Shiraz University of Medical Sciences, Shiraz, Iran
3Department of Pharmacognosy, Faculty of Pharmacy, Tabriz University of Medical Sciences, Tabriz, Iran
4Experimental and Applied Pharmaceutical Research Center, Urmia University of Medical Sciences, Urmia, Iran
DOI :

10.35333/jrp.2021.287
Arum species have antioxidant, antimicrobial, and anti-cancer effects. However, there is no study on its possible cardioprotective effects. In the present study, the protective effects of hydro-alcoholic extract of Arum orientale (A. orientale) on isoproterenol-induced myocardial infarction (MI) were evaluated. For induction of MI the rats were received isoproterenol (100 mg/kg) for two consecutive days, whereas treated groups received 40, 80 and 160 mg/kg/day of hydroalcoholic extract of A.orientale intraperitoneally (ip) 20 min before each Isoproterenol injection. Isoproterenol-induced MI significantly increased myocardial necrosis and neutrophil infiltration. Histopathological analysis showed that A. orientale at dose of 160 mg/kg significantly reduced necrosis and neutrophil infiltration in the heart tissue (P< 0.046 and P<0.048, respectively). Induction of MI also increased myeloperoxidase (MPO) activity and peripheral neutrophil percent. While A. orientale similarly decreased MPO activity and peripheral neutrophils in blood (P<0.021 p<0.042 respectively) at dose of 160 mg/kg. Administration of the extract markedly decreased serum malondialdehyde level at dose of 80 mg/kg and creatine phosphokinase (CPK) activity with all doses. Our results for the first time reported potential cardioprotective effects of A. orientale that partially can be through suppression of inflammatory responses and reduction of lipid peroxidation following MI. However, any suggestions for potential use in MI needs further studies.
Keywords :

Arum; Myocardial Infarction; neutrophil; lipid peroxidation; creatine kinase