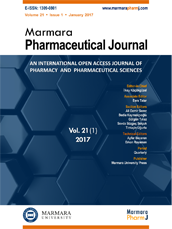 Editor-in-Chief
Hatice Kübra Elçioğlu
Vice Editors
Levent Kabasakal
Esra Tatar
Online ISSN
2630-6344
Publisher
Marmara University
Frequency
Bimonthly (Six issues / year)
Abbreviation
J.Res.Pharm.
Former Name
Marmara Pharmaceutical Journal
Journal of Research in Pharmacy
2020 , Vol 24 , Issue 6
Evaluation anti-asthmatic activity of hydroalcoholic extract of Luffa cylindrica leaves
1Department of Pharmacology, SCES's Indira College of Pharmacy, Pune-411033, Maharashtra, India
2SGMSPM's Dyanvilas College of Pharmacy, Dudulgaon, Pune-412105, Maharashtra, India
DOI :

10.35333/jrp.2020.244
Asthma is an allergic chronic inflammatory disorder of the lung presented clinically in the form bronchial obstruction due to hyper-responsive bronchial wall inflammation and bronchial smooth muscle constriction. Conventional anti-asthmatic drugs are associated with many adverse effcts as well as non-compliance and non-adherence to complicated drug regimens. Thus, to inhibit these adverse effects and to improve patient compliance, there is an unmet medical need for complementary therapies for asthma. Ayurveda has recommended a number of drugs from indigenous plant sources for the treatment of bronchial asthma and allergic disorders. Luffa cylindrica Linn has been traditionally claimed to be used in treatment of bronchitis, bronchial asthma, skin diseases, rheumatoid arthritis, fever, etc. Considering phytochemical profile & traditional claims of Luffa cylindrica, the present study was designed to study anti-asthmatic activity of hydroalcoholic extract of Luffa cylindrica leaves (HAELC) using histamine induced contraction of goat tracheal chain, Clonidine induced catalepsy, Milk induced eosinophilia, Passive paw anaphylaxis and OVA induced airway inflammation. The total phenolic content, total flavonoid content and total alkaloid content was measured by colorimetric assay. In the present study, pretreatment with HAELC (250, 500 and 1000 mg/kg p.o.) significantly inhibited clonidine induced catalepsy, decreased milk induced eosinophilia, inhibited passive paw anaphylaxis and decreased number of eosinophil and macrophage count in the BALF in OVA induced airway inflammation Moreover, histopathological analysis revealed that HAELC treatment suppressed the infiltration of inflammatory cells and the hyperplasia of goblet cells. Thus, the results confirmed anti-asthmatic potential of HAELC. From the results of present investigation, it can be concluded that HAELC possess significant anti-asthmatic activity which may be ascribed to its anti-allergic, bronchodilating, anti-histaminic, adaptogenic, and anti-inflammatory potential, confirming the traditional claim about Luffa cylindrica.
Keywords :

Luffa cylindrica; anti-asthmatic; anti-allergic; total phenolic content; adaptogenic