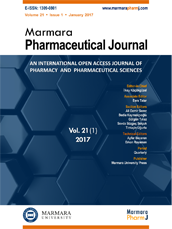 Editor-in-Chief
Hatice Kübra Elçioğlu
Vice Editors
Levent Kabasakal
Esra Tatar
Online ISSN
2630-6344
Publisher
Marmara University
Frequency
Bimonthly (Six issues / year)
Abbreviation
J.Res.Pharm.
Former Name
Marmara Pharmaceutical Journal
Journal of Research in Pharmacy
2019 , Vol 23 , Issue 3
Phytochemical study and biological activities of Scurrula parasitica L (Loranthaceae) leaves
1Department of Chemistry, Faculty of Science, Universiti Teknologi Malaysia, 81310 Johor Bahru, Johor, Malaysia
2Chemistry Advanced Research Center, Sheda Science and Technology Complex, 186 Garki, Abuja, Nigeria
DOI :

10.12991/jrp.2019.159
Chemical constituents of Scurrula parasitica leaves from Loranthaceae family and some biological activities have been studied. Cold extractions were carried out using n-hexane, ethyl acetate and methanol to obtain the crude extracts. Purification of the extracts led to the isolation of quercetin 1, quercitrin 2, kaempferol 3-O-α-L-rhamnoside 3, (+)-catechin 4, lupeol 5, lupeol palmitate 6, β-sitosterol 7, squalene 8, octacosane 9, octadecane 10 and eicosane 11. The in vitro antioxidant activity of the extracts and isolated compounds were evaluated. Compounds 1, 2, 3 and 4, together with ethyl acetate and methanol extracts exhibited effective antioxidant activities against DPPH, ABTS and FRAP assays, while n-hexane and other compounds were inactive. The ethyl acetate extract gave the highest tyrosinase percent inhibition value of 66.02%, while quercetin gave the best result with tyrosinase percent inhibition value of 79.09%. All extracts and isolated compounds showed weak activity on antimicrobial inhibition assay with the exception of quercetin which exhibited moderate activity against Pseudomonas aeruginosa with MIC and MBC value of 250 µg/mL.
Keywords :

Quercetin; Scurrula parasitica; loranthaceae; antityrosinase, antioxidant