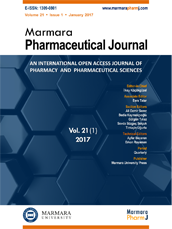 Editor-in-Chief
Hatice Kübra Elçioğlu
Vice Editors
Levent Kabasakal
Esra Tatar
Online ISSN
2630-6344
Publisher
Marmara University
Frequency
Bimonthly (Six issues / year)
Abbreviation
J.Res.Pharm.
Former Name
Marmara Pharmaceutical Journal
Journal of Research in Pharmacy
2019 , Vol 23 , Issue 2
Zingiber officinale mitigates diazinon-induced testicular toxicity via suppression of oxidative stress and apoptosis in mice model
1Student Research Committee, Faculty of Medicine, Mazandaran University of Medical Sciences, Sari, Iran
2Department of Toxicology, Faculty of Pharmacy, Mazandaran University of Medical Sciences, Sari, Iran
3Department of Anatomy, Faculty of Medicine, Molecular and Cell Biology Research Center, Mazandaran University of Medical Sciences, Sari, Iran
DOI :

10.12991/jrp.2019.128
Diazinon (DZN), as an organophosphate insecticide, induces testicular toxicity through oxidative stress. Ginger, a herbal medicine, has antioxidant and anti-inflammatory properties. This study was designed to investigate the effects of ginger against DZN-induced testicular toxicity. In this experimental study, thirty-two adult male mice were randomly divided into four groups. The control group; ginger group (100 mg/kg); DZN group (10 mg/kg); ginger + DZN group. Ginger and DZN received for 30 consecutive days by gavage, and DZN has been treated one hour after receiving ginger. Sperm parameters (including motility, sperm count, sperm viability rate and morphological sperm abnormalities), biochemical (MDA and GSH), testosterone levels, histopathological and immunohistochemical assays of testis were evaluated. The results revealed that treatment with DZN caused significant damage of sperm parameters (sperm motility, count, viability rate and abnormalities), increased oxidative stress (increased MDA and decreased GSH level), significant histopathological changes and decreased Johnsen's Score, testosterone level and increased caspase-3 immunoreactivity. Ginger preserved sperm parameters and mitigated the toxic effects of DZN. Also, treatment with ginger significantly reduced caspase-3 immunoreactivity. Our results concluded that the ginger with anti-apoptotic and antioxidant activity and with scavenging free radicals protect testis against DZN-induced toxicity.
Keywords :

Organophosphate insecticide; diazinon; ginger; oxidative stress; testicular toxicity; caspase-3