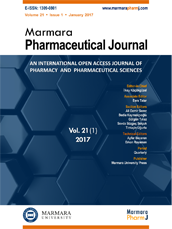 Editor-in-Chief
Hatice Kübra Elçioğlu
Vice Editors
Levent Kabasakal
Esra Tatar
Online ISSN
2630-6344
Publisher
Marmara University
Frequency
Bimonthly (Six issues / year)
Abbreviation
J.Res.Pharm.
Former Name
Marmara Pharmaceutical Journal
Marmara Pharmaceutical Journal
2018 , Vol 22 , Issue 2
Plants used in traditional treatment against hemorrhoids in Turkey
1Department of Pharmacognosy, Faculty of Pharmacy, Istanbul University, 34116, Istanbul Turkey
DOI :

10.12991/mpj.2018.49
Due to its geographic location, variable climate and traditional culture, Turkey has a rich flora and the use of plants in folk medicine is very favorable. That practice and knowledge have been passed down from generation to generation. Ethnobotanical surveys are carried out to record traditional treatment methods of plants. In this study, which was prepared by screening of ethnobotanical researches made in Turkey, 241 taxa were recorded in the traditional treatment of hemorrhoids. Information about scientific and local names, families, used parts and usage patterns of these plants are given. According to the research results, the most commonly used plants in hemorrhoid treatment are plants belonging to Asteraceae, Lamiaceae, Rosaceae, Scrophulariaceae, Araceae, Polygonaceae and Cupressaceae families. The species commonly used in different regions of Turkey are Achillea sp., Arum sp., Cichorium intybus L., Dracunculus vulgaris Schott, Ecballium elaterium (L.) A. Rich., Ficus carica L., Hypericum perforatum L., H. scabrum L., Juglans regia L., Peganum harmala L., Rosa canina L., Rubus sp., Sambucus ebulus L., S. nigra L., Teucrium polium L., Urtica dioica L., Verbascum sp..
Keywords :

Hemorrhoids; Traditional treatment; Medicinal plants; Turkey