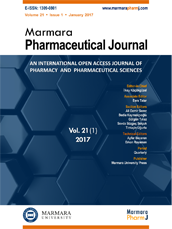 Editor-in-Chief
Hatice Kübra Elçioğlu
Vice Editors
Levent Kabasakal
Esra Tatar
Online ISSN
2630-6344
Publisher
Marmara University
Frequency
Bimonthly (Six issues / year)
Abbreviation
J.Res.Pharm.
Former Name
Marmara Pharmaceutical Journal
Marmara Pharmaceutical Journal
2016 , Vol 20 , Issue 3
Comparative study of biological activities of extracts from three Malaysian Beilschmiedia species
1Department of Chemistry, Faculty of Science, Universiti Teknologi Malaysia (UTM), 81310 Johor Bahru, Johor, Malaysia
2School of Chemistry and Environment Studies, Faculty of Applied Sciences, Universiti Teknologi MARA (UiTM) Sarawak, Jalan Meranek, 94300 Kota Samarahan, Sarawak, Malaysia
3Department of Bioscience and Health Sciences, Faculty of Biosciences and Medical Engineering, Universiti Teknologi Malaysia (UTM), 81310 Johor Bahru, Johor, Malaysia
DOI :

10.12991/mpj.20162009162
This study was carried out to investigate the bioactivities of extracts from three Beilschmiedia species, which are Beilschmiedia glabra Kosterm, B. madang Blume, and B. pulverulenta Kosterm. The bioactivity studies were determined on their antioxidant, antimicrobial, antityrosinase, anti-inflammatory, and acetylcholinesterase activities. Evaluation of antioxidant activities were tested against DPPH and phenolic content (TPC) assays. The antimicrobial activity were investigated by microdilution method for determination of MIC, MBC and MFC. Antityrosinase and anti-inflammatory inhibition activity was analysed using mushroom tyrosinase and lipoxygenase enzyme, respectively, while acetylcholinesterase activity against acetylcholinesterase (AChE) enzyme. The MeOH stem bark extract of B. madang shows the highest activity on DPPH (IC50 of 63.2 μg/mL) and TPC (163.4 mg GA/g) assay. All extracts showed from moderate to weak activity with MIC/MBC/MFC values in the ranged of 125-1000 μg/mL. The EtOAc extract of the leaves of B. glabra revealed the highest percentage inhibition on tyrosinase activity (I: 82.5%), while for anti-inflammatory activity showed by the MeOH leaves extract of B. pulverulenta (I: 66.6%). The MeOH extract of stem bark of B. madang demonstrated the highest activity on acetylcholinestrase activity with percentage inhibition of 62.8%. The results demonstrated that the Beilschmiedia species possess significant activities on various biological studies.
Keywords :

Beilschmiedia, antioxidant, antimicrobial, antityrosinase, anti-inflammatory, acetylcholinesterase, Lauraceae