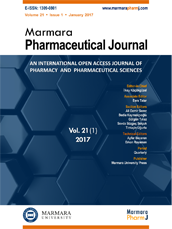 Editor-in-Chief
Hatice Kübra Elçioğlu
Vice Editors
Levent Kabasakal
Esra Tatar
Online ISSN
2630-6344
Publisher
Marmara University
Frequency
Bimonthly (Six issues / year)
Abbreviation
J.Res.Pharm.
Former Name
Marmara Pharmaceutical Journal
Marmara Pharmaceutical Journal
2016 , Vol 20 , Issue 2
Antiproliferative activity of some tautomeric hydrazones derived from chalcones
1Department of Pharmaceutical Chemistry, Faculty of Pharmacy, Marmara University, 34668, Istanbul, Turkey
2Ege University, Faculty of Pharmacy, Department of Biochemistry, İzmir, 35040, Turkey
DOI :

10.12991/mpj.20162093956
A new series of hydrazones synthesized from chalcones. Synthesized compounds have been characterized by IR, 1H-NMR and elemental analysis. Antiproliferative activity of compounds was investigated on Hela, A549, MC F7, HCC 1937, MRC 5 cells. All compounds exhibited cytotoxicity. Especially compounds 1b, 1c, 1f and 1i having 4-metylsulfonyl phenyl showed higher cytotoxicity against all of the cell lines compared to reference drug doxorubicin with low value of IC50=5.56-21.93 μM. The most active compounds 1b, 1c, 1f and 1i were analyzed for their effect on autophagic processes. HCC 1937 cells were treated with these compounds at IC50 concentration for 24 hours. An immunoblotting assay was performed to analysis autophagy markers and total polyubiquitinated protein levels. Compounds 1b, 1c, 1f and 1i significantly increased the conversion of LC 3-I to LC 3-II at IC50 concentration. None of the tested compounds changed the level of total polyubiquitinated proteins.
Keywords :

chalcones, hydrazones, antiproliferative activity