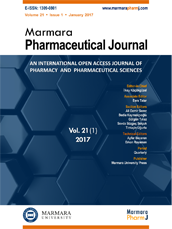 Editor-in-Chief
Hatice Kübra Elçioğlu
Vice Editors
Levent Kabasakal
Esra Tatar
Online ISSN
2630-6344
Publisher
Marmara University
Frequency
Bimonthly (Six issues / year)
Abbreviation
J.Res.Pharm.
Former Name
Marmara Pharmaceutical Journal
Marmara Pharmaceutical Journal
2016 , Vol 20 , Issue 2
Development and Validation of an Hplc Method for Voriconazole Active Substance in Bulk and its Pharmaceutical Formulationand validation of an HPLC method for voriconazole active substance in bulk and its pharmaceutical formulation
1Istanbul Medipol University, School of Pharmacy, Department of Pharmaceutical Technology, Beykoz, 34810 Istanbul, Turkey
DOI :

10.12991/mpj.20162076793
The aim of the present study was to develop and validate a High-Performance Liquid Chromatography (HPLC) method for the determination of voriconazole in drug substances and in situ gel. A mixture of acetonitrile and ultrapure water (50:50) (v/v) was used as mobile phase. The column was a C18 column (150x4.6mm with 5μm particles). The eluent was monitored with UV detection at 256 nm and flow rate was set to 1 mL/ min. The method was validated partially with respect to system suitability, linearity, limits of detection (LOD) and quantitation (LOQ), precision, accuracy, specificity, selectivity and stability. Obtained results showed that the analytical method had good linearity, accuracy, precision, selectivity and stability. Analytical method development results indicated that the LOD was 0.022 μg/mL; LOQ was 0.065 μg/mL and assay exhibited a linear range of 1- 30 μg/mL.
Keywords :

Voriconazole, HPLC, method, validation