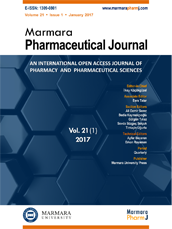 Editor-in-Chief
Hatice Kübra Elçioğlu
Vice Editors
Levent Kabasakal
Esra Tatar
Online ISSN
2630-6344
Publisher
Marmara University
Frequency
Bimonthly (Six issues / year)
Abbreviation
J.Res.Pharm.
Former Name
Marmara Pharmaceutical Journal
Marmara Pharmaceutical Journal
2014 , Vol 18 , Issue 3
Identification of Indigoid Dyes Found in Rapana venosa by High Performance Liquid Chromatography with Diode-array Dedection
1Marmara Üniversitesi, Eczacılık Fakültesi, Analitik Kimya ABD Tıbbiye Cad. 34668 İstanbul- TÜRKİYE
2Marmara Üniversitesi, Eczacılık Fakültesi, Analitik Kimya ABD
DOI :

10.12991/mpj.2014187246
Indigo and indigoid dyes are molluscan dyes and have been known since pre-Roman times. Indigoid dyes are used in textile, food, medicine and cosmetic sectors as a colorant. At the present time their new analogous are synthesizing for the treatment of some important diseases as cancer and diabetes. Indigo and indigoid dyes are obtained from certain species of molluscs. One of this species is Rapana venosa (Synonyms: Rapana thomasiana or pontica). The aim of this study was to identification of indigoid dyes in Rapana Venosa by reversed phase high performance liquid chromatography with diod array dedector.A new chromatographic method was developed for the seperation of seven indigoid dyes in the same sample. Chromatographic seperation was achieved with C18 coloumn, cetonitrile/water/trifluoroacetic acid mobil phase system and gradient elution. Analyses of Rapana venosa dimethyl sulfoxide extracts were performed with same chromatographic conditions. Our study demonstrated that this novel chromatografic method we have developed can provided the simultaneously seperation of seven indigoid dyes. We identified 6,6"-dibromoindirubin and 6,6"- dibromoindigotin dyes in Rapana venosa extracts. Utilization of natural dyes are gradually increased by the reason of the toxic effects of synthetic dyes on enviromental and human health. Furthermore, production of natural dyes and discover the new natural dye sources are important problems in this area. Rapana venosa can be used as an alternative source for the production of 6,6"-dibromoindirubin ve 6,6"-dibromoindigotin dyes.
Keywords :

İndigo, 6,6