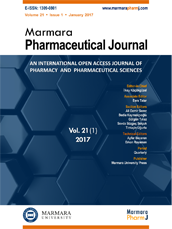 Editor-in-Chief
Hatice Kübra Elçioğlu
Vice Editors
Levent Kabasakal
Esra Tatar
Online ISSN
2630-6344
Publisher
Marmara University
Frequency
Bimonthly (Six issues / year)
Abbreviation
J.Res.Pharm.
Former Name
Marmara Pharmaceutical Journal
Journal of Research in Pharmacy
2023 , Vol 27 , Issue 5
In vitro cytotoxicity evaluation and phytochemical analysis of Ajuga reptans L. extracts
1Deparment of Pharmacognosy, School of Pharmacy, Istanbul Medipol University, Beykoz 34810 Istanbul, Türkiye
2Deparment of Pharmacognosy, Institude of Graduate Studies in Health Science, Istanbul University, Fatih 34116 Istanbul, Türkiye
3Department of Pharmacognosy, Institude of Graduate Studies in Health Sciences, Anadolu University, Eskişehir, Türkiye
4Department of Pharmaceutical Microbiology, School of Pharmacy, Medipol University, Istanbul, 34810, Türkiye
5Department of Molecular Biology and Genetics, Institute of Graduate Studies in Sciences, Istanbul University, Istanbul, 34080, Türkiye
DOI :

10.29228/jrp.490
The aim of this study was to evaluate phytochemical composition of Ajuga reptans L. (Lamiaceae) aerial parts (separately flower and leaf) methanol, aqueous-methanolic extracts, and their cytotoxic activities. The phytochemical analysis was performed high-performance liquid chromatography (HPLC). Caffeic acid, p-coumaric, gallic, chlorogenic, ferulic acids, kaempferol, rutin, quercetin, quercetin-3-O-galactoside, and quercitrin were used as reference substances by HPLC in all samples. The major compounds in the extract were found as ferulic acid, caffeic acid, rutin, and quercetin-3-O-galactoside. Cytotoxicity was investigated using methyl thiazole tetrazolium (MTT) assay. Cytotoxic evaluation of the extracts against cancer (MCF7, PC3, and A549) and healthy human embryonic kidney cell line (HEK293) cell lines by MTT. Compared to other cells, the methanol extract of A. reptans demonstrated high selectivity against PC3 cells (IC50: 95 ± 0.99 μg/mL) and selectivity index was four times higher than reference drug colchicine. (IC50: 95 ± 0.99 μg/mL, SI: 6.10). A. reptans demonstrated antiproliferative potential against prostate and lung cancer cells. Therefore, additional investigations are needed to study the mechanism of the cytotoxicity for A. reptans.
Keywords :

Ajuga; Cytotoxicity; Lamiaceae; HPLC