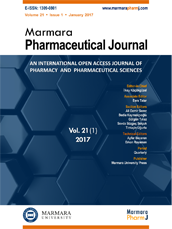 Editor-in-Chief
Hatice Kübra Elçioğlu
Vice Editors
Levent Kabasakal
Esra Tatar
Online ISSN
2630-6344
Publisher
Marmara University
Frequency
Bimonthly (Six issues / year)
Abbreviation
J.Res.Pharm.
Former Name
Marmara Pharmaceutical Journal
Journal of Research in Pharmacy
2022 , Vol 26 , Issue 6
Piroxicam induced alteration on membrane depolarization and caspase levels in PC3 prostate cancer cells
1Ankara University, Faculty of Pharmacy, Department of Biochemistry, Degol Street, 06560, Ankara, Türkiye
2Ankara University, Institute of Health Sciences, Şehit Ömer Halisdemir Avenue, 06110, Ankara, Türkiye
DOI :

10.29228/jrp.255
The relationship between cancer and inflammation has been known for years, and the interaction between prostate cancer and inflammation and inflammatory agents is still under investigation. Studies have shown that nonsteroidal anti-inflammatory drugs (NSAIDs), which are effective in the treatment of inflammation, can also be effective in some types of cancer. In this study, the efficacy of piroxicam on human prostate cancer cells was evaluated. Piroxicam showed a significant cytotoxic effect in PC-3 cells at a concentration of 50 μM and above at the 48th hour, and induced cell cycle arrest in the S phase. On the other hand, piroxicam was found to increase annexin V binding in PC3 cells, and the early apoptotic cell population was found to be significantly higher at 25 μM and higher concentrations (p<0.05). The apoptosis-inducing effect of piroxicam was also confirmed by high total caspase levels (p<0.0001). In addition, increased membrane depolarization was observed in PC3 cells treated with piroxicam. In conclusion, this study showed the cytotoxic and apoptotic effect of piroxicam in PC-3 cells, and the obtained findings shed light on further studies on the use of piroxicam as a promising compound in prostate cancer.
Keywords :

Piroxicam; PC3; Prostate cancer; Apoptosis; Caspase; Mitopotential