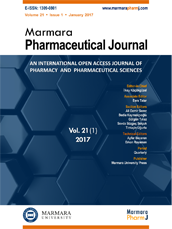 Editor-in-Chief
Hatice Kübra Elçioğlu
Vice Editors
Levent Kabasakal
Esra Tatar
Online ISSN
2630-6344
Publisher
Marmara University
Frequency
Bimonthly (Six issues / year)
Abbreviation
J.Res.Pharm.
Former Name
Marmara Pharmaceutical Journal
Journal of Research in Pharmacy
2022 , Vol 26 , Issue 4
The Cytotoxicity and the Antimicrobial Activities of Arum italicum Miller
1Asfarma International Pharma Marketing, Istanbul, Türkiye
2Department of Pharmaceutical Microbiology, Faculty of Pharmacy, Marmara University, İstanbul, Türkiye
DOI :

10.29228/jrp.196
In this study, the cytotoxicity potential and antibacterial and antifungal activities of two different extracts of fresh leaves of Arum italicum Miller were investigated. The saponin extract and the alkaloid extract were investigated by Brine Shrimp (Artemia salina L.) lethality bioassay method for evaluation of cytotoxic effect. Umbelliferone was used as standard, and both of the extracts showed cytotoxic effect by the Brine Shrimp (Artemia salina L.) lethality bioassay method. According to the LC50 results, saponin extract was found to be the most active extract, and classifiable as moderate to highly toxic (LC50 237.1437 mg/mL-1). Although, the alkaloid extract was showed cytotoxic activity lower than Umbelliferone, LC50 750.1920 mg/mL-1 value was classifiable as mildly cytotoxic. Antibacterial and antifungal activities were tested by the agar well diffusion and tube dilution methods. 6 bacteria and 6 yeasts were used in the methods Meropenem and Fluconazole were the standards of the methods. The saponin extract was found to be effective against Staphylococcus epidermidis and Sthaphylococcus aureus compared with Meropenem. Both of the extracts were not found to be effective against fluconazole as antifungal activity point of view. According to the all studied activity results the saponin contents of the fresh leaves of the plant emphasizing the antimicrobial activity. And, both of the extracts have cytotoxic activity potential.
Keywords :

Arum italicum Miller; saponin; alkaloid; antibacterial activity; antifungal activity