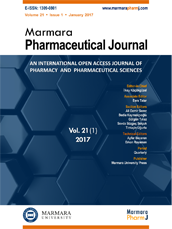 Editor-in-Chief
Hatice Kübra Elçioğlu
Vice Editors
Levent Kabasakal
Esra Tatar
Online ISSN
2630-6344
Publisher
Marmara University
Frequency
Bimonthly (Six issues / year)
Abbreviation
J.Res.Pharm.
Former Name
Marmara Pharmaceutical Journal
Journal of Research in Pharmacy
2022 , Vol 26 , Issue 4
Development of novel formulation technology for oral delivery of Sterculia Gum
1Dr. D.Y.Patil Unitech Society's, Dr. D.Y. Patil Institute of Pharmaceutical Science and Research, Pimpri, Pune, Maharashtra, India 4311018
2Sky Biotech Life Sciences Pvt. Ltd., Georai Tanda, Aurangabad, Maharashtra, India 431001
DOI :

10.29228/jrp.185
Constipation and associated health issues like acid reflux, malnutrition were commonly observed in regions with water availability limitations. Although some of the products available in the market address this issue, there is limited research on development of such products which will be able to solve multiple associated issues. Sterculia gum, a natural product known for water retention and associated properties in traditional systems of medicine. Despite this, research and therapeutic applications of this product are in infancy. This study was aimed to develop laxative oral granules of sterculia gum with some other therapeutically and nutraceutical active ingredients for multiple applications as bulk laxative, demulcent, water retention agent, diarrhea and appetite controller in the management of obesity. Sterculia gum, magnesium trisilicate, dried magnesium sulphate, heavy kaolin and excipients characterization and product development was carried out with developed in house formulation technology. Developed formulation was evaluated for various formulation based evaluation parameters. Desirable pH range of 4.3 to 6.9 was observed indicating reduction in acidic properties of sterculia gum; good swelling index was observed 240ml/3gm. Identification tests and assay of active ingredients were carried and found to be within specified limit range. Developed formulation showed desirable stability of 12 months indicating good shelf life of product. Study results revealed developed formulation can be further investigated in clinical studies and might be served as novel dosage form for therapeutic applications in habitual constipation for multiple therapeutic targets with single product.
Keywords :

Granules; Constipation; Laxative; Nutraceutical; Sterculia Gum