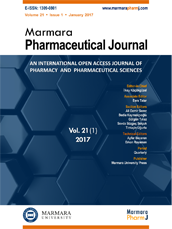 Editor-in-Chief
Hatice Kübra Elçioğlu
Vice Editors
Levent Kabasakal
Esra Tatar
Online ISSN
2630-6344
Publisher
Marmara University
Frequency
Bimonthly (Six issues / year)
Abbreviation
J.Res.Pharm.
Former Name
Marmara Pharmaceutical Journal
Journal of Research in Pharmacy
2022 , Vol 26 , Issue 4
Ammi visnaga L. and Nanocarrier Approaches in the Treatment of Skin Diseases
1Department of Pharmaceutical Technology, Hamidiye Faculty of Pharmacy, University of Health Sciences, Istanbul, Türkiye
2Department of Pharmacognosy, Faculty of Pharmacy, Sivas Cumhuriyet University, Sivas, Türkiye
3Department of Pharmaceutical Technology, Faculty of Pharmacy, Sivas Cumhuriyet University, Sivas, Türkiye
DOI :

10.29228/jrp.181
Ammi visnaga L. is a plant that grows naturally in Europe and is very common in Türkiye. It has various pharmacological effects due to its γ-pyrones, coumarins, flavonoids and essential oils content. And its major phytocontituent khellin, which has a furanochrome structure obtained by extraction from the seeds of the Ammi visnaga L. is effective on the photochemotherapy of skin diseases. In this context, researches on topical delivery of khellin has been increased and the use of nanocarriers has gain attention to achieve optimised efficacy and stability related khellin, for the treatment of some skin diseases especially psoriasis and vitiligo. In this review, studies on the efficacy of khellin, which is the major phytocontituent of Ammi visnaga L.in the treatment of skin diseases and topical delivery of it via nanocarrier systems has been overviewed to draw attention to the potential of herbal sources accompained modern carrier systems in the treatment.
Keywords :

Ammi visnaga L.; herbal medicine; psoriasis; vitiligo; topical; nanocarrier systems