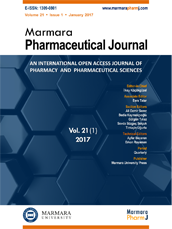 Editor-in-Chief
Hatice Kübra Elçioğlu
Vice Editors
Levent Kabasakal
Esra Tatar
Online ISSN
2630-6344
Publisher
Marmara University
Frequency
Bimonthly (Six issues / year)
Abbreviation
J.Res.Pharm.
Former Name
Marmara Pharmaceutical Journal
Journal of Research in Pharmacy
2022 , Vol 26 , Issue 4
Combined ethanol extract of Hypselodelphys poggeana and Spermacoce radiata leaves ameliorate benign prostatic hyperplasia in rats via modulation of serum sex hormonal levels
1Department of Biochemistry, College of Natural Sciences, Michael Okpara University of Agriculture, Umudike, Abia State, Nigeria, PMB 7267
2Department of Physiology, Abia State University, Uturu, Abia State, Nigeria
DOI :

10.29228/jrp.201
This study evaluated the effects of a combined ethanol extract of and Hypselodelphys poggeana and Spermacoce radiata leaves (CESHL) on sex hormone levels and prostate weights of benign prostatic hyperplasia (BPH) induced rats. The combined extract was prepared from the plants and was subjected to acute toxicity (LD50) evaluation in rats. The study adopted five groups of rats (n = 6) with group 1 being the normal control without BPH induction, group 2 was the BPH control, group 3 was the finasteride control, and groups 4 and 5 were BPH induced rats treated with 250 and 500 mg/kg CESHL/day for 28 days. Induction of prostate hyperplasia in rats belonging to groups 2-5 was done via daily subcutaneous administration of testosterone propionate (5 mg/kg body weight) for 28 days in accordance with standard protocols. The result obtained in the acute toxicity evaluation indicated an LD50 value of above 5000 mg/kg body weight. In the main study, a significant increase (P<0.05) in serum testosterone, dihydrotestosterone, prostate weight, prostate index and reduced serum estradiol was observed in the BPH control when compared with the normal control. Treatment of BPH induced rats (groups 4 and 5) with CESHL significantly reduced serum concentrations of testosterone and dihydrotestosterone, and also elevated serum estradiol concentration when compared with the BPH control, comparing favourably with the values of these hormones in the finasteride-treated group. The BPH induced rats treated with CESHL also had significantly reduced prostate weight and prostate index relative to the BPH control and higher percentage inhibition of prostate weight and prostate index when compared with the finasteride control. Our findings show that CESHL may ameliorate benign prostate hyperplasia via mechanisms that lower serum testosterone and dihydrotestosterone levels and increase estradiol levels.
Keywords :

Benign prostatic hyperplasia, Spermacoce radiata, Hypselodelphy spoggeana, Sex hormones, Prostate weight, Prostate index