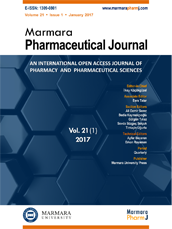 Editor-in-Chief
Hatice Kübra Elçioğlu
Vice Editors
Levent Kabasakal
Esra Tatar
Online ISSN
2630-6344
Publisher
Marmara University
Frequency
Bimonthly (Six issues / year)
Abbreviation
J.Res.Pharm.
Former Name
Marmara Pharmaceutical Journal
Journal of Research in Pharmacy
2022 , Vol 26 , Issue 4
Forty Micromole Hydroxychloroquine Enhanced Cytotoxic Effect of Doxorubicin Against Laryngeal Cancer Cell Line HEp-2
1Department of Pharmacy, Al-Mustaqbal University College, Hillah, Babylon, Iraq
2Department of Anatomy and Histology, Faculty of Medicine, University of Babylon, Iraq
3Department of Pharmacology and Toxicology, Faculty of Pharmacy, University of Babylon, Iraq
DOI :

10.29228/jrp.169
Autophagy processes are essential biological mechanisms control human cell survival and induction of cell death. Many researches indicate that cancer cells growth is affected by inhibition or induction of autophagy processes and laryngeal cancer "the most common type of head and neck cancer" is one of various types of tumors which effected by autophagy process. Numerous articles studied impact of adding autophagy inhibiter to cancer treatment protocol, and the current work study the in-vitro anticancer effect of doxorubicin alone and in combination with an autophagy inhibitor agent hydroxychloroquine against HEp-2 (laryngeal cancer) cell line. The present study suggested valuable effect of doxorubicin anticancer activity against HEp-2 cell line when used after hydroxychloroquine pretreatment, which may play promising role in treatment of laryngeal cancer.
Keywords :

Autophagy; autophagy inhibitor; doxorubicin; head and neck cancer; HEp-2; hydroxychloroquine; laryngeal cancer