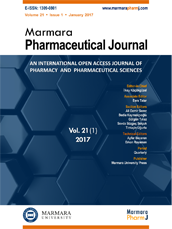 Editor-in-Chief
Hatice Kübra Elçioğlu
Vice Editors
Levent Kabasakal
Esra Tatar
Online ISSN
2630-6344
Publisher
Marmara University
Frequency
Bimonthly (Six issues / year)
Abbreviation
J.Res.Pharm.
Former Name
Marmara Pharmaceutical Journal
Journal of Research in Pharmacy
2022 , Vol 26 , Issue 2
Chemical profile by LC-Q-TOF-MS of Nigella sativa seed extracts and in vitro antimicrobial activity on bacteria which are determined resistance gene and isolated from nosocomial infection
1Department of Pharmacognosy, Faculty of Pharmacy, İstanbul Yeni Yüzyıl University, İstanbul, Turkey
2Department of Medical Microbiology, Faculty of Medicine, Ufuk University, Ankara, Turkey
3Department of Pharmaceutical Chemistry, Faculty of Pharmacy, Gazi University, Ankara, Turkey
4Department of Medical Microbiology, Faculty of Medicine, Istanbul University, İstanbul, Turkey
DOI :

10.29228/jrp.127
Healthcare-associated infection (HCAI) is a global health challenge and methicillin-resistant Staphylococcus aureus (MRSA) and extended-spectrum beta-lactamases (ESBL) producing gram-negative bacilli, which were isolated from HCAIs, are the most common antimicrobial-resistant pathogens. The present research aimed to determine the chemical composition and antimicrobial activity of ethyl acetate and methanol extracts of Nigella sativa seeds. Antimicrobial activity of plant extracts was observed against 20 clinical yeast (which isolated from swab samples of tongue dorsal surfaces in patients with stomatitis), 18 clinical bacteria isolates (which found from HCAIs), and also eight bacteria, and three yeast standard strains by using a broth microdilution assay. The methanol extract had the highest inhibitory activity against S. aureus standard strain at 0.4 mg/mL. The ethyl acetate extract showed the highest antibacterial activity against Bacillus cereus standard strain at 0.4 mg/mL. The methanol and ethyl acetate extracts did not show inhibitory activity against Gram-negative bacteria and yeast isolates. The LC-Q-TOF-MS profiles of the extracts were found to contain saponin, alkaloid, and fatty acid. Mass spectra revealed the presence of 14 fatty acids, four saponins, and three alkaloids for methanol extract and 13 fatty acids, three saponins, and two alkaloids for ethyl acetate extract.
Keywords :

Nigella sativa; antimicrobial activity; clinical isolates; extracts; LC-Q-TOF-MS