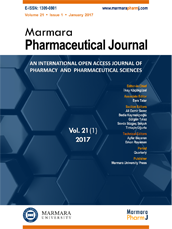 Editor-in-Chief
İlkay Küçükgüzel
Associate Editor
Aslı Türe
Online ISSN
2630-6344
Publisher
Marmara University
Frequency
Bimonthly (Six issues / year)
Abbreviation
J.Res.Pharm.
Former Name
Marmara Pharmaceutical Journal
COVID-19 Special Issue: Call-for-Papers for the Journal of Research in Pharmacy
The COVID pandemic has been a global health problem. During this unprecedented time of the COVID-19 pandemic, diagnosis and treatment modalities for the care of COVID-19 patients have fluctuated frequently. The information and guidelines has changed drastically, sometimes week to week.
Therefore, we have decided to dedicate one of our regular issues to COVID-19 articles. Thus, we are announcing this special call-for-papers with the hope of receiving articles, which include well-documented information relevant to the current public health problem, epidemiology, diagnosis, treatment and patient care modalities to fight against this pandemic. Papers related to the design and development of synthetic or natural compounds as new drug candidates, or repurposing efforts including in silico, in vitro /vivo experimental studies.
Our article categories include Research Articles, Review Articles, Commentaries and Letters to the Editor. However, we are primarily seeking for research papers. The original research is prioritized.
J.Res.Pharm is a peer-reviewed, journal, which does not require publication fee and published six times a year. It is covered by Web of Science: Emerging Sources Citation Index, EBSCO, EMBASE and Tr-index. To meet our publishing timelines, we will need to receive submissions no later than May 30th 2021. This special issue will appear in Fall- Winter 2021. Therefore, submission deadlines are tight and review process will be undertaken expeditiously.
Regarding the format and other guidelines for submission, please refer to the "Instructions to Authors" in the journal homepage.
On behalf of our whole editorial and publishing team, we hope you will join us in this mission to share COVID-19 information. We look forward to receiving your work.
Kind Regards,
Hale Z. Toklu,
Professor of Pharmacology & Medical Education
Editor for the COVID-19 Special Issue
and
Ilkay Kucukguzel
Professor of Pharmaceutical Chemistry
Editor-in-Chief