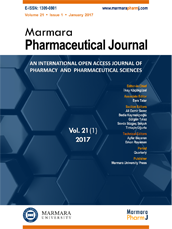 Editor-in-Chief
İlkay Küçükgüzel
Associate Editor
Aslı Türe
Online ISSN
2630-6344
Publisher
Marmara University
Frequency
Bimonthly (Six issues / year)
Abbreviation
J.Res.Pharm.
Former Name
Marmara Pharmaceutical Journal
Journal of Research in Pharmacy
2021 , Vol 25 , Issue 4
Anticancer effect of the letrozole-quercetin combination mediated by FOXOs and estrogen receptors in breast cancer cells.
1Department of Plant Protection, Faculty of Agriculture Sciences and Technology, Sivas Science and Technology University, Turkey
2Department of Biochemistry, Faculty of Medicine, Aydin Adnan Menderes University, Aydın, Turkey
DOI :

10.29228/jrp.38
Breast cancer is the most common malign tumor among women in the world and is the main lineage of cancer deaths due to its susceptibility to metastasis. Letrozole is used as an aromatase inhibitor and as anti-estrogenic, utilized to cure the breast cancer. Quercetin is a powerful antioxidant known as free radical scavenger, an important flavonoid. The current study was performed to examine the mechanism of action of the combination letrozole and quercetin in human breast cancer cells and to investigate the efficacy of letrozole and quercetin in breast cancer cells. Human breast cancer cells (MCF-7 and MDA-MB-231) were incubated with letrozole (10nM) and/or quercetin (5ng/mL). Cell proliferation of letrozole and quercetin in breast cancer cell lines was measured by MTT. Western blotting and qPCR were practiced to measure the protein and gene expression levels of ER-α, ER-β, Bax, Bcl-2, Foxo1, Foxo3, VEGF, Akt. Results from the study showed that letrozole and quercetin combination inhibited cell growth in MCF-7 and MDA-MB-231 cells and induced mitochondrial apoptosis. Letrozole and quercetin combination therapy may provide contributions to the development of new therapeutic drugs as an effective treatment approach for breast cancer patients.
Keywords :

Breast cancer; letrozole; quercetin; apoptosis; FOXOs; estrogen