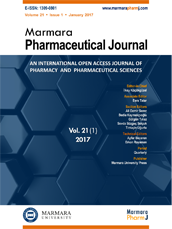 Editor-in-Chief
İlkay Küçükgüzel
Associate Editor
Aslı Türe
Online ISSN
2630-6344
Publisher
Marmara University
Frequency
Bimonthly (Six issues / year)
Abbreviation
J.Res.Pharm.
Former Name
Marmara Pharmaceutical Journal
Marmara Pharmaceutical Journal
2017 , Vol 21 , Issue 3
Investigation on quantitative structure-activity relationships of benzoylamino benzoic acid derivatives as β-ketoacyl-acyl carrier protein synthase III (FABH) inhibitors
1Department of Pharmaceutical Chemistry, Bharati Vidyapeeth College of Pharmacy, Kolhapur, Maharashtra
2Department of Chemistry, Shivaji University, Kolhapur
DOI :

10.12991/marupj.323292
Fatty acid biosynthesis is an important process in the microorganism life cycle. β-Ketoacyl-acyl Carrier Protein Synthase III (FABH) catalyzes a critical step in fatty acid biosynthesis via type ii fatty acid biosynthesis. Series of 43 Benzoyl amino benzoic acid derivatives were subjected to 2D and 3D quantitative structure-activity relationships (QSAR) analysis via multiple linear regression and partial least square analysis respectively. Statistically significant four QSAR models were developed with good cross-validated correlation coefficient and external validation values. Developed QSAR model indicated the significance of the lipophilic parameters in an inhibitory potential of benzoyl amino benzoic acid derivatives.
Keywords :

QSAR, Benzoyl amino benzoic acid, FabHβ- Ketoacyl-acyl Carrier Protein Synthase III, Partial least square (PLS), Multiple linear regression (MLR)