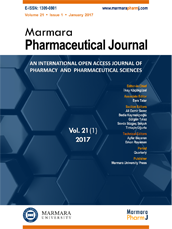 Editor-in-Chief
Hatice Kübra Elçioğlu
Vice Editors
Levent Kabasakal
Esra Tatar
Online ISSN
2630-6344
Publisher
Marmara University
Frequency
Bimonthly (Six issues / year)
Abbreviation
J.Res.Pharm.
Former Name
Marmara Pharmaceutical Journal
Journal of Research in Pharmacy
2022 , Vol 26 , Issue 1
Extracts of Portulaca oleracea L. growing in Kashmir Valley exert apoptosis mediated antiproliferative effects and inhibit migration and invasion of oral cancer cells
1Department of Chemistry, Madhyanchal Professional University, Ratibad, Bhopal-462044, M.P, India
2Professor at Department of Chemistry, Madhyanchal Professional University, Ratibad, Bhopal-462044, M.P, India
DOI :

10.29228/jrp.112
The main aim of this research was to investigate the antiproliferative effects of P. oleracea L. extracts against oral cancer cells and the underlying mechanism of action. The effects of extracts on SCC-9 cell proliferation and colony generation were monitored by MTT (3-(4,5-dimethylthiazol-2-yl)-2,5-diphenyl tetrazolium bromide) assay and clonogenic assay, respectively. Morphological features were studied by phase-contrast microscopy. Apoptotic studies were carried out through AO/EB (Acridine Orange/Ethidium Bromide) staining and western blotting assay. Cell migration and invasion abilities of SCC-9 cells were studied by transwell assay. The results indicated that aqueous, ethanolic and hexane extracts all showed significant (P<0.05) proliferation inhibition against SCC-9 cells. However, a significant IC50 value was determined in case of ethanolic extract that is 52 μg/ml. The number of colonies reduced remarkably post extract treatment. Treated cells showed disturbed morphological features pointing towards apoptotic cell death. It was observed that ethanolic extract caused nuclear disintegration and membrane damage indicated apoptotic cell death, which was further supported by western blotting revealing increased expression of Bax and decreased Bcl-2 expression in treated SCC-9 cells. Furthermore, ethanolic extract significantly blocked the potency of SCC-9 cell to migrate and invade. In conclusion, the results showed that P. oleracea L. possess strong antiproliferative effects against oral cancer cells SCC-9 mediated via apoptosis induction. Moreover, migration and invasion of SCC-9 cells was also inhibited significantly. Therefore, our research could prove beneficial in oral cancer research and treatment and also could help in finding lead drug candidates from P. oleracea.
Keywords :

Oral cancer; Portulaca oleracea; apoptosis; proliferation; cell migration; cell invasion