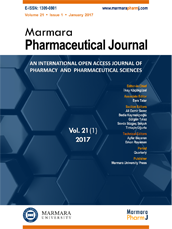 Editor-in-Chief
Hatice Kübra Elçioğlu
Vice Editors
Levent Kabasakal
Esra Tatar
Online ISSN
2630-6344
Publisher
Marmara University
Frequency
Bimonthly (Six issues / year)
Abbreviation
J.Res.Pharm.
Former Name
Marmara Pharmaceutical Journal
Journal of Research in Pharmacy
2022 , Vol 26 , Issue 1
Protective effect of edaravone on rat testis after valproic acid treatment
1Department of Chemistry, Faculty of Engineering, Istanbul University-Cerrahpaşa, Avcilar 34320 Istanbul, Turkey
2Pharmacy Services, Vocational School of Health Services, Istanbul Medipol University, Beykoz 34810 Istanbul, Turkey
DOI :

10.29228/jrp.103
Valproic acid (n-dipropyl-acetic acid, VPA) is a medication used as anticonvulsant in the treatment of bipolar disorder, and for migraine prophylaxis. Long-term use of VPA is known to trigger reproductive impairment, which is mediated by elevation of testicular oxidative stress. Edaravone is used in the treatment of cerebrovascular diseases. It can diffuse into many disease-affected organs, thus shows protective effects in numerous tissues including the heart, lung, and testis. The main goal of the present study was to determine the possible protective role of edaravone against VPA-induced oxidative testicular injury. Male Sprague Dawley rats were assigned into four groups. Control rats; rats given only edaravone (30 mg/kg/day); rats given only VPA (500 mg/kg/day); rats given VPA+edaravone for seven days. Edaravone and VPA were applied intraperitoneally. After eight days, testicular tissues were taken from rats. There was a statistically significant increase in the levels of reduced glutathione, lipid peroxidation, reactive oxygen species, total oxidant status, oxidative stress index, and DNA contents as well as catalase, superoxide dismutase, glutathione-related enzymes, gamma-glutamyl transferase, acid and alkaline phosphatases, lactate dehydrogenase, myeloperoxidase and sorbitol dehydrogenase activities in VPA group. More so, advanced oxidized protein products, protein carbonyl, and nitric oxide levels were also significantly increased in VPA group. Activities of glucose-6-phosphate dehydrogenase and sodium/potassium ATPase and total antioxidant status levels remarkably decreased in VPA given group. Treatment with edaravone to VPA group significantly reverted these alterations. These findings demonstrate that administration of edaravone has a beneficial effect against testicular injury in VPA-induced oxidative stress.
Keywords :

Edaravone; testis injury; valproic acid; oxidative stress parameters; antioxidant enzymes