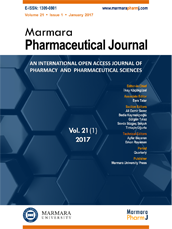 Editor-in-Chief
İlkay Küçükgüzel
Associate Editor
Aslı Türe
Online ISSN
2630-6344
Publisher
Marmara University
Frequency
Bimonthly (Six issues / year)
Abbreviation
J.Res.Pharm.
Former Name
Marmara Pharmaceutical Journal
Journal of Research in Pharmacy
2021 , Vol 25 , Issue 4
Comparison of the apoptotic effects of bortezomib using 2D and 3D co-culture models of THP-1 derived macrophage and A549 lung cancer
1Department of Pharmacy Services, Tavas Vocational School of Health Services, Pamukkale University, Denizli, Turkey
2Department of Pharmacology, Faculty of Pharmacy, Anadolu University, Eskişehir, Turkey
3Department of Pharmaceutical Microbiology, Faculty of Pharmacy, Anadolu University, Eskişehir, Turkey
DOI :

10.29228/jrp.39
We investigated the fundamental function of the lung cancer tumour microenvironment. Proteasome inhibition has emerged as a clinically successful anti-cancer therapeutic strategy, with the antineoplastic medication bortezomib showing high efficacy against multiple cancers. Tumour-associated macrophages (TAMs), which migrate to tumour stroma, are known to promote cell proliferation, apoptosis, and metastasis within the lung cancer microenvironment. However, the specific interaction of macrophages, lung cancer cells, and bortezomib are still unclear. Most in vitro cell cultures are traditionally grown in a two-dimensional (2D) culture system, although 3D cultures have demonstrated greater success in terms of drug response, gene expression and viability. Therefore, to elucidate the role of macrophages, we aimed to establish a co-culture model in both 2D and 3D cultures using A549 human lung cancer cells and THP-1 derived macrophages. Apoptotic effects were analysed using the Annexin V-PI method. Since NF-kB and TNF-α play important roles in the anti-proliferation and apoptosis pathways, the levels of NF-kB and TNF-α mRNA expression were measured. As a result, bortezomib significantly increased cell apoptosis in cells co-cultured with M0 macrophages. IL-1β cytokine levels also increased, and NF-kB mRNA expression levels decreased. Understanding the mechanisms that modulate the tumour microenvironment may facilitate the development of novel anticancer therapies. The utilisation of TAMs may improve the successful treatment of lung cancer and warrants further study.
Keywords :

A549; macrophage; THP-1; bortezomib; 3D culture