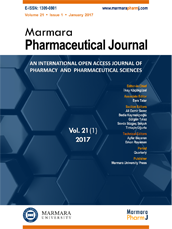 Editor-in-Chief
İlkay Küçükgüzel
Associate Editor
Aslı Türe
Online ISSN
2630-6344
Publisher
Marmara University
Frequency
Bimonthly (Six issues / year)
Abbreviation
J.Res.Pharm.
Former Name
Marmara Pharmaceutical Journal
Journal of Research in Pharmacy
2021 , Vol 25 , Issue 4
Nephroprotective effect of ethanol extract of Sonchus arvensis L. leaves in gentamicin-piroxicam induced rat renal failure
1Department of Pharmacology-Clinical Pharmacy, School of Pharmacy, Institut Teknologi Bandung, Bandung, Indonesia
DOI :

10.29228/jrp.35
Kidney failure is characterized by a decrease in the glomerular filtration rate, albuminuria, increased serum creatinine and blood urea nitrogen levels, abnormalities in kidney histology, and electrolyte disturbances. Sonchus arvensis L. contain high antioxidants such as flavonoids, glycosides, alkaloids, steroids/triterpenoids, tannins, saponins, and quinones, so it has the potential to improve kidney function. Twenty-five male Wistar albino rats were divided into five groups: negative control, positive control (induction of kidney failure), and three test groups which were administered an ethanol extract of Sonchus arvensis L. leaves of 50, 100, and 150 mg/kg b.w doses, respectively. Rats kidney failure model were using gentamycin 100 mg/kg b.w. and piroxicam, 3.6 mg/kg b.w. induction. Sonchus arvensis L. extracts were then administered for four weeks. The parameters for nephroprotective of Sonchus arvensis L. were urea and serum creatinine levels, urine volume, kidney organ histology, TBARS, and catalase activity. There was an improvement in kidney function as all Sonchus arvensis L. dosage levels were characterized by a significant decrease in serum urea levels (25-30%) and serum creatinine (16-23%), as well as significantly increased urine volume (83-167%) in the third week of therapy. At the end of treatment, there was a decrease in the TBARS levels (7-17%) and increased catalase activity (41-62%), significantly in all the treatment groups. The best effect was seen when using the 150 mg/kg b.w. the dose of Sonchus arvensis L. extract.
Keywords :

Sonchus arvensis L.; gentamicin; piroxicam; renal failure; nephroprotective