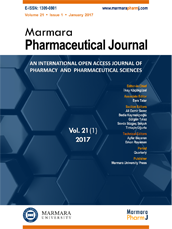 Editor-in-Chief
İlkay Küçükgüzel
Associate Editor
Aslı Türe
Online ISSN
2630-6344
Publisher
Marmara University
Frequency
Bimonthly (Six issues / year)
Abbreviation
J.Res.Pharm.
Former Name
Marmara Pharmaceutical Journal
Journal of Research in Pharmacy
2020 , Vol 24 , Issue 5
Vortioxetine improved social and cognitive deficits in acute ketamine model of schizophrenia in rats
1Department of Pharmacology, Faculty of Pharmacy, Erciyes University, Kayseri, Turkey
2Experimental Research and Application Center (DEKAM), Erciyes University, Kayseri, Turkey
3Department of Biology, Faculty of Science, Erciyes University, Kayseri, Turkey
DOI :

10.35333/jrp.2020.220
Schizophrenia is a devastating psychiatric disorder with its complex symptoms and neurobiology. It has been known that serotonergic dysregulation contributes to the pathogenesis of schizophrenia, although dopaminergic and glutamatergic systems are thought to have central roles in neurobiology. Vortioxetine is a new multimodal antidepressant that shows agonistic effects on 5-HT1A and partial agonist on 5-HT1B receptors, antagonistic effects on the serotonergic 5-HT3, and 5-HT7 receptors and high-affinity inhibitory effect on serotonin reuptake pumps. A limited number of studies suggest that vortioxetine may have a potential therapeutical effect on schizophrenia, especially on negative and cognitive symptoms. Herein, we first investigated the potential beneficial effects of vortioxetine on positive, negative, and cognitive symptoms of schizophrenia in the acute ketamine model of rats. For these reasons, Wistar albino rats grouped as saline, ketamine (10 or 15 mg/kg), vortioxetine (10 mg/kg), and ketamine+vortioxetine (10 mg/kg) (n=8 in each group). Social interaction (SI), novel object recognition (NOR), and prepulse inhibition (PPI) tests were performed to evaluate schizophrenia-like behaviors in rats. Vortioxetine attenuated the social deficits induced by ketamine in the SI test. In NOR, ketamine reduced the discrimination index, and vortioxetine reversed this effect of ketamine in rats. Ketamine decreased the prepulse inhibition (%) compared to saline, and vortioxetine treatment exacerbated the ketamine reduced prepulse inhibition (%) in rats. In conclusion, our results suggested that vortioxetine may have beneficial effects, especially on negative symptoms of schizophrenia. It will be beneficial to confirm our study in different schizophrenia models of rodents and investigating the possible underlying mechanism of these effects.
Keywords :

Vortioxetine; ketamine; schizophrenia; novel object recognition; social interaction