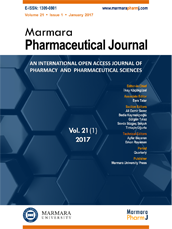 Editor-in-Chief
İlkay Küçükgüzel
Associate Editor
Aslı Türe
Online ISSN
2630-6344
Publisher
Marmara University
Frequency
Bimonthly (Six issues / year)
Abbreviation
J.Res.Pharm.
Former Name
Marmara Pharmaceutical Journal
Journal of Research in Pharmacy
2020 , Vol 24 , Issue 5
What we know about COVID-19 and its treatment
1Department of Pharmacology, Faculty of Pharmacy, Marmara University, Haydarpaşa 34668 İstanbul, Turkey
2Department of Pharmacognosy, Faculty of Pharmacy, Trakya University, 22030 Edirne, Turkey
3St. Christopher's Hospital for Children, Department of Pediatrics, Philadelphia, USA
DOI :

10.35333/jrp.2020.215
Severe acute respiratory syndrome corona virus 2 (SARS-CoV-2) which is the human coronavirus and a member of the Coronaviridae family leads to fatal pneumonia cases. Severe acute respiratory syndrome corona virus 2 attaches to the cells in the human body through binding to the angiotensin converting enzyme 2 (ACE2) receptor with the spike (S) protein. Firstly, SARS-CoV-2 arised in China in late 2019 and was reported to the World Health Organization (WHO). The World Health Organization named the disease caused by this virus as corona virus disease (COVID)-19. SARS-CoV-2 which has human-to-human transmission through droplets, direct contact and aerosol routes have affected more than 10 million people and caused more than 500 thousand deaths. Clinical symptoms of COVID-19 are fever, dry cough, sore throat, respiratory distress, lung damage, and diarrhea. In severe cases, mechanical ventilation is required and multiple organ damage is encountered. COVID-19 is diagnosed with real-time polymerase chain reaction (PCR) technique which is applied to saliva and swab samples taken from the nose or nasal cavity. Lung damage is detected by computerized tomography (CT). COVID-19 develops more severely in patients with comorbidities such as hypertension, diabetes and cancer. While vaccine and drug development studies are continuing all over the world, available antiviral drugs such as umifenovir, remdesivir, favipiravir are also tested against SARS-CoV-2. Moreover, the plasma donated from the recovered patients are tested for COVID-19 treatment. Additionally, treating the inflammatory conditions developing due to COVID-19 and applying antimicrobial drugs against co-infections are among the current approaches.
Keywords :

SARS-CoV-2; COVID-19; COVID-19 comorbidities; COVID-19 treatment