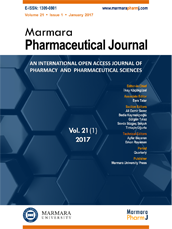 Editor-in-Chief
İlkay Küçükgüzel
Associate Editor
Aslı Türe
Online ISSN
2630-6344
Publisher
Marmara University
Frequency
Bimonthly (Six issues / year)
Abbreviation
J.Res.Pharm.
Former Name
Marmara Pharmaceutical Journal
Journal of Research in Pharmacy
2020 , Vol 24 , Issue 3
Comparative study of the anti-inflammatory, antioxidant and urease inhibitory activities of Eryngium kotschyi Boiss. and E. campestre L. var. virens (Link) Weins extracts
1Department of Pharmacognosy, Hamidiye Faculty of Pharmacy, University of Health Sciences Turkey, Üsküdar 34668 İstanbul, Turkey
2Department of Pharmacognosy, Faculty of Pharmacy, Marmara University, Haydarpasa 34668 İstanbul, Turkey
3Department of Pharmacognosy, School of Pharmacy, İstanbul Medipol University, Beykoz 34810 İstanbul, Turkey
4Department of Biology Education, Hacettepe University, Beytepe 06800 Ankara, Turkey
5Department of Pharmacognosy, Faculty of Pharmacy, Yeditepe University, Ataşehir 34755 İstanbul, Turkey
DOI :

10.35333/jrp.2020.162
Despite widespread traditional usage of Eryngium species in Anatolia (Turkey), only a limited number of scientific studies exists on E. kotschyi, an endemic species. Previously, extracts from E. campestre and E. kotschyi were reported to have significant anti-inflammatory effects in vivo. This study aimed to investigate the in vitro anti-inflammatory, antioxidant, urease inhibitory activities of ethanol extracts of E. kotschyi and E. campestre var. virens roots as well as distilled water and ethanol extracts of E. kotschyi aerial parts. The NO and cytokine inhibitory effects were evaluated by Griess and ELISA assays. The antioxidant activities were tested on DPPH•, ABTS•+ and CUPRAC assays. The EtOH extract of E. kotschyi roots (EKr EtOH) and aerial parts (EKae EtOH) inhibited 50.08% and 41.52% of NO production at 100 μg/ml, respectively. The EtOH extract of the roots of E. campestre var. virens (ECr EtOH) and EKr EtOH provided 36.22% and 65.23% IL-6 inhibition and 44.24% and 56.84% IL-1α inhibition at 100 μg/ml. EKae EtOH exerted highest antioxidant activity on ABTS•+ (2.4±0.0005 μM trolox/mg extract) and CUPRAC (0.97±0.07 mM trolox/mg extract). This extract was also found the richest among all in terms of phenolics content (6.1±0.001 mg/GAE/g extract). EKr EtOH and ECr EtOH exhibited strongest DPPH• (IC50 = 1.132±0.057 mg/ml) radical scavenging and ferric reducing/antioxidant power (0.36±0.005 mM Fe2+/mg extract) activity respectively. The extracts exerted low urease inhibitory activity. Consequently, the results of this study might contribute to the elucidation of the mechanism of in vivo anti-inflammatory activity of the extracts.
Keywords :

Eryngium kotschyi; Eryngium campestre var. virens; anti-inflammatory; antioxidant; urease inhibition, phenolics