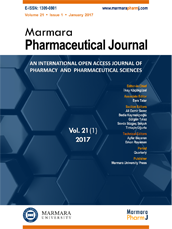 Editor-in-Chief
İlkay Küçükgüzel
Associate Editor
Aslı Türe
Online ISSN
2630-6344
Publisher
Marmara University
Frequency
Bimonthly (Six issues / year)
Abbreviation
J.Res.Pharm.
Former Name
Marmara Pharmaceutical Journal
Journal of Research in Pharmacy
2020 , Vol 24 , Issue 3
Development and evaluation of a pH triggered in situ ocular gel of brimonidine tartrate
1Department of Pharmaceutics, PSG College of Pharmacy, Coimbatore, India 641 004
2Department of Biomedical and Pharmaceutical Sciences, Skaggs School of Pharmacy, Montana, United States 59812
3Department of Pharmaceutical Chemistry, PSG College of Pharmacy, Coimbatore, India 641 004
4Department of Pharmaceutics, Rathinam Instiute of Pharmacy, Nellore, India 524 346
DOI :

10.35333/jrp.2020.164
The aim of the present research work was to prepare and evaluate in situ gel forming ophthalmic drug delivery system loaded with brimonidine tartarate (BT). In this work, carbopol and hydroxy propyl methyl cellulose (HPMC), ophthalmic gel-forming mucoadhesive polymers, which gets converted to gel in the lachrymal fluid were used as in the preparation of pH t riggered in situ gel formulation. The formulations were then autoclaved at 121°C for 15 min and evaluated for pH, clarity, gelling capacity, drug content, viscosity, and in vitro release. The developed formulations exhibited extended release of drug over a period of 8 hours in in vitro studies and therefore it could increase the residence time in eye. The optimized formulations were finally tested for its ability to cause irritation in male albino rabbits. The results indicated that the formulations did not irritate or damage the cornea, iris and conjunctiva.
Keywords :

Brimonidine tartarate; in situ gel; ophthalmic drug delivery; viscosity enhancement; in vitro release