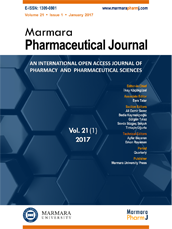 Editor-in-Chief
İlkay Küçükgüzel
Associate Editor
Aslı Türe
Online ISSN
2630-6344
Publisher
Marmara University
Frequency
Bimonthly (Six issues / year)
Abbreviation
J.Res.Pharm.
Former Name
Marmara Pharmaceutical Journal
Journal of Research in Pharmacy
2020 , Vol 24 , Issue 2
Preparation and characterization of poly(lactic-co-glycolic acid) nanoparticles containing TGF-β1 and evaluation of in vitro wound healing effect
1Department of Pharmaceutical Biotechnology, Faculty of Pharmacy, Marmara University, 34668 Istanbul, Turkey
2Department of Pharmaceutical Technology, Faculty of Pharmacy, Marmara University, 34668 Istanbul, Turkey
DOI :

10.35333/jrp.2020.144
Wound healing involves many complex mechanisms, and many growth factors are effective in this process. Growth factors are biologically active polypeptides. They perform activities such as cell growth, differentiation, proliferation and migration with molecular cascades by binding to specific receptors. Transforming growth factor stimulates (TGF-β) different cell types in the wound healing process. Poly(lactic-co-glycolic acid) (PLGA) degradation produces lactate that expedites angiogenesis, activates pro-collagen factors. Therewith, we hypothesized to combine the therapeutic effect of the TGF-β1with the positive effect of the drug delivery system including PLGA nanoparticles (TGF-β- PLGA NP). The burst effect decreases as the polymer concentration increases in PLGA nanoparticles. The inhibitory effect of TGF-β1 on keratinocytes was reduced by the improved nanoparticle formulations. It showed a proliferative effect of up to 92.5 per cent on fibroblast cells involved in wound healing. Although TGF-β1 has an inhibitory effect on keratinocytes, it induces migration both NIH-3T3 and HaCaT cell lines in the scratch assay.
Keywords :

Transforming growth factor; PLGA; nanoparticle; wound healing