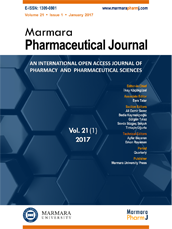 Editor-in-Chief
İlkay Küçükgüzel
Associate Editor
Esra Tatar
Online ISSN
2630-6344
Publisher
Marmara University
Frequency
Bimonthly (Six issues / year)
Abbreviation
J.Res.Pharm.
Former Name
Marmara Pharmaceutical Journal
Journal of Research in Pharmacy
2019 , Vol 23 , Issue 4
Kojic acid derivatives as potential anticancer agents: Synthesis and cytotoxic evaluation on A375 human malignant melanoma cells
1Department of Pharmaceutical Chemistry, Faculty of Pharmacy, Hacettepe University, Sıhhiye 06100 Ankara, Turkey
2Department of Biochemistry, Faculty of Pharmacy, Hacettepe University, Sıhhiye 06100 Ankara, Turkey
DOI :

10.12991/jrp.2019.167
Malignant melanoma is a serious type of skin cancer with high mortality rates, arising from melanocytic cells responsible for the pigmentation of the skin. Besides, the excessive accumulation of melanin pigment can lead to many other hyperpigmentation disorders. Kojic acid is used as a skin lightening agent of medicinal and cosmetic products used in hyperpigmentation and sunburn cases. In the present study, substituted halogen containing benzylpiperazine derivatives of kojic acid (compounds 1-9) were synthesized via Mannich reaction in mild conditions. Afterwards, the cyclic amine derivatives (compounds 10-26) were obtained as a result of nucleophilic substitutions. Cytotoxic effects of all the compounds on A375 human malignant melanoma cell lines were explored by sulphorhodamine B assay and efficacies has been compared to those of anticancer FDA-approved drugs dacarbazine, temozolomide, and lenalidomide, currently used in the treatment of malignant melanoma. Also, the most active two compounds were also tested on healthy cell lines (HGF-1 and MRC-5 cell lines). These compounds have shown highest activity (IC50: 71.27 for compound 9 and 73.74 µM for compound 1) than temozolomide (IC50: 95.6 µM) and lenalidomide (IC50: 143.1 µM) against A375 cells though giving less harm to non-cancerous cell lines. In conclusion, these compounds stand out as promising anticancer agents for further studies.
Keywords :

Kojic acid; synthesis; A375 cells; Mannich bases