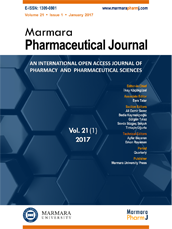 Editor-in-Chief
İlkay Küçükgüzel
Associate Editor
Esra Tatar
Online ISSN
2630-6344
Publisher
Marmara University
Frequency
Bimonthly (Six issues / year)
Abbreviation
J.Res.Pharm.
Former Name
Marmara Pharmaceutical Journal
Journal of Research in Pharmacy
2019 , Vol 23 , Issue 4
Optimization of the conditions of the extraction and purification stages of the Shilajit substance
1LLC "Kvadrat-S", Moscow, Russian Federation
2Pyatigorsk Medical and Pharmaceutical Institute - a branch of the Volgograd State Medical University of the Ministry of Health of Russia, Pyatigorsk, Russian Federation
DOI :

10.12991/jrp.2019.178
The Shilajit was prepared according to different technologies, depending on the extraction stages, the purification method and the drying method, after which the content of the ballast substances was determined in the obtained samples. For the obtained samples, complete elemental analysis was performed on the S8 Tiger Wave X-ray fluorescence spectrometer. In the course of the experiment, the dependence of the content of ballast silicon (Si) and aluminum (Al) substances was revealed depending on the extraction stages, the purification method, and the drying method. As a result of the research, the optimum technological regime was chosen, observance of which of the Shilajit will be the minimum content of ballast substances.
Keywords :

Shilajit; production technology; ballast substances; X-ray fluorescence spectrophotometry