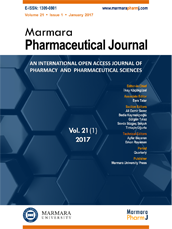 Editor-in-Chief
İlkay Küçükgüzel
Associate Editor
Aslı Türe
Online ISSN
2630-6344
Publisher
Marmara University
Frequency
Bimonthly (Six issues / year)
Abbreviation
J.Res.Pharm.
Former Name
Marmara Pharmaceutical Journal
Journal of Research in Pharmacy
2020 , Vol 24 , Issue 2
Comparative evaluation of Irvingia gabonensis seed fat extract and other bases in promethazine hydrochloride suppository formulations
1Department of Pharmaceutical Technology and Raw Materials Development, National Institute for Pharmaceutical Research and Development, Abuja, Nigeria
2Centre for Nanomedicine and Biophysical Drug Delivery, National Institute for Pharmaceutical Research and Development, Abuja, Nigeria
3Department of Pharmaceutics and Industrial Pharmacy, Faculty of Pharmaceutical Sciences, University of Ilorin, Ilorin, Nigeria
4Department of Pharmaceutics and Pharmaceutical Technology, Faculty of Pharmacy, University of Uyo, Uyo, Nigeria
DOI :

10.35333/jrp.2020.141
A study has been made on the formulation and evaluation of promethazine hydrochloride suppositories using dika fat (DF) from Irvingia gabonensis seeds as a base comparatively with both water and fatty soluble bases. Rectal suppositories containing promethazine hydrochloride (25 mg) in pre-calibrated mould were prepared by fusion method using DF, macrogol (MG), cocoa butter (CB) and cocoa butter + 10%w/w (weight by weight) beeswax (CBW) as bases. Thereafter the suppositories were characterized using parameters such as appearance, crushing strength, weight variation, melting point, pH, liquefaction time, content uniformity, and in vitro release in accordance with standard procedures. Results obtained indicated that the bases used generally could be ranked in the order of DF > CB > MG > CBW in terms of favourable physicochemical properties investigated. The foregoing indicates that DF has promising potential and could be a substitute suppository base in the formulation of promethazine hydrochloride suppositories.
Keywords :

Formulation; suppositories; promethazine hydrochloride; Dika fat