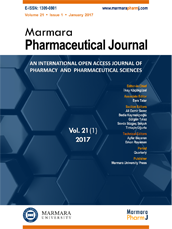 Editor-in-Chief
İlkay Küçükgüzel
Associate Editor
Aslı Türe
Online ISSN
2630-6344
Publisher
Marmara University
Frequency
Bimonthly (Six issues / year)
Abbreviation
J.Res.Pharm.
Former Name
Marmara Pharmaceutical Journal
Journal of Research in Pharmacy
2019 , Vol 23 , Issue 1
Antimicrobial activities of five endemic Hypericum species from Anatolia compared with Hypericum perforatum
1Department of Pharmacognosy, Faculty of Pharmacy, İstanbul University, 34116, İstanbul, Turkey
2Department of Pharmaceutical Microbiology, Faculty of Pharmacy, İstanbul University, 34116, İstanbul, Turkey
DOI :

10.12991/jrp.2018.115
Different crude extracts of some endemic Hypericum species (H. thymbrifolium, H. spectabile, H. pseudolaeve, H. neurocalycinum, H. malatyanum) and H. perforatum were analyzed using a microdilution assay for antimicrobial activity against several microorganisms. It is observed that all extracts showed activity against tested Gram positive bacteria (Staphylococcus aureus, Meticillin resistant S. aureus and Streptococcus epidermidis). The most active extracts were from H. neurocalycinum and H. malatyanum which showed potent activity with lowest MIC (4.8 μg/mL) value against more tested Gram positive bacteria. Additionally, it was also found that some extracts of H. spectabile and H. pseudolaeve had antifungal activities against C. albicans. These endemic species were evaluated for antimicrobial activity for the first time in the literature.
Keywords :

Endemic; Hypericum; antimicrobial activity; microdilution