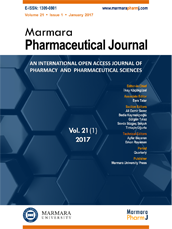 Editor-in-Chief
İlkay Küçükgüzel
Associate Editor
Aslı Türe
Online ISSN
2630-6344
Publisher
Marmara University
Frequency
Bimonthly (Six issues / year)
Abbreviation
J.Res.Pharm.
Former Name
Marmara Pharmaceutical Journal
Marmara Pharmaceutical Journal
2018 , Vol 22 , Issue 3
Evaluation of avocado (Persea americana Mill.) leaves in terms of public health
1İstinye University, Faculty of Pharmacy, Department of Pharmaceutical Botany, 34010 Zeytinburnu, İstanbul, Turkey
2Ankara University, Faculty of Pharmacy, Department of Pharmaceutical Botany 06100, Tandoğan, Ankara, Turkey
DOI :

10.12991/jrp.2018.74
Persea americana Mill. (Lauraceae) originated in Central and Southern of South America, is an evergreen tree. The tree is commonly known as avocado. Avocado is cultivated in all tropical and subtropical regions in the world. This tree has been usually grown in the southern coastal region of Turkey due to its commercial importance. Its fruit is a drupe which consumed as food. Except this, the leaves are widely used for pass kidney stone and against the urinary tract infections as therapeutic among the people in Turkey and Cyprus.

The present study, 13 different samples from 5 diverse cities (Ankara, Hatay, İstanbul, Kayseri and Aydın) were purchased. The sample to be used as standard was obtained from the culture form (Dörtyol, Hatay). The morphological properties of leaves, which are part of the plant used as a drug, were determined both in the standard sample and in the purchased samples. Anatomical features of cross and surface sections from standard avocado leaves with cross sections from the petiole of natural avocado leaves were investigated and determined. Besides, the distinctive anatomical structures of the powdered samples (standard sample and samples purchased from the market) were demonstrated. The avocado leaf is bifacial. The hairs are only located the lower surface of the leaf and mostly unicellular. Secretory cells and crytals were observed in the avocado leaf and petiole. Crystals are simple in various sizes and small raphids. The stomata confined to the lower surface and anomocytic type (3-6 subsidiary cells). In cross section taken from the petiole, the hairs were observed to be gathered on the upper surface of the petiole.
Keywords :

Persea americana; Lauraceae; morphology; anatomy; powder drug; public health; traditional use