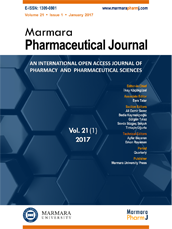 Editor-in-Chief
İlkay Küçükgüzel
Associate Editor
Esra Tatar
Online ISSN
2630-6344
Publisher
Marmara University
Frequency
Quarterly (January-April-July-October)
Abbreviation
J.Res.Pharm.
Former Name
Marmara Pharmaceutical Journal
Journal of Research in Pharmacy
2017 , Vol 21 , Issue 4
Analgesic and anti-inflammatory activity of crude leaf and bark extract of Lantana Camara
1University of Pune, Department of Pharmacology, Maharashtra, India
2Government College of Pharmacy, Department of Pharmaceutics, Maharashtra, India
3Department of Pharmacology, Sagar Institute of Pharmaceutical Sciences, Sagar M.P. India
DOI :

10.12991/mpj.2017.7
The purpose of present study was to investigate the analgesic and anti-inflammatory activity of Lantana camara (Verbenaceae) leaf and bark extract. The methanol extract of Lantana camara (MELC) was screened for possible analgesic activity by acetic acid, hot plate and anti-inflammatory activity by carrageenan and histamine induced paw edema. The result showed that, MELC (100 mg/kg and 200 mg/kg) leaf and bark possessed significant (P <0.01 and P <0.05) anti-inflammatory response and 200 mg/kg dose of MELC leaf and bark showed more significant (P <0.01) analgesic activity as compared to the 100 mg/kg dose. Preliminary phytochemical screening result shows the presence of several phytochemicals which may responsible for its anti-inflammatory and analgesic actions. The results indicate the MELC showed great potential for analgesic and anti-inflammatory activity and may be useful for the medical purpose.
Keywords :

Lantana camara; anti-inflammatory activity; analgesic activity