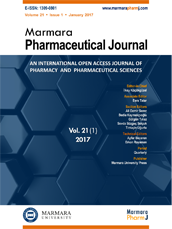 Editor-in-Chief
İlkay Küçükgüzel
Associate Editor
Esra Tatar
Online ISSN
2630-6344
Publisher
Marmara University
Frequency
Quarterly (January-April-July-October)
Abbreviation
J.Res.Pharm.
Former Name
Marmara Pharmaceutical Journal
Journal of Research in Pharmacy
2017 , Vol 21 , Issue 3
Investigation of the Effects of Edaravone on Valproic Acid Induced Tissue Damage in Pancreas
1Department of Biochemistry, Faculty of Dentistry, Marmara University, 34854, Maltepe, Istanbul, Turkey
2Department of Chemistry, Faculty of Engineering, Istanbul University, 34320, Avcilar, Istanbul, Turkey
3Department of Histology and Embryology, Faculty of Dentistry, Marmara University, 34854, Maltepe, istanbul, Turkey
4Department of Histology and Embryology, Faculty of Medicine, Marmara University, 34854, Maltepe, Istanbul
DOI :

10.12991/marupj.319312
Valproic acid (VPA), an effective antiepileptic and anticonvulsant drug, has some toxic side effects due to causing elevated oxidant production. The aim of this study is to investigate the effects of edaravone, a potent free radical scavenger on VPA induced toxicity and tissue damage by biochemical and histological examinations on pancreas. Female Sprague Dawley rats were divided into four groups as follows; control, edaravone, VPA, VPA+edaravon. VPA and edaravone were injected intraperitonally for seven days. Total protein, lipid peroxidation (LPO), sialic acid (SA) and glutathione (GSH) levels and alkaline phosphatase (ALP), tissue factor (TF), superoxide dismutase (SOD), glutathione-S-transferase (GST), catalase (CAT), glutathione peroxidase (GPx) and myeloperoxidase (MPO) activities were determined in pancreas homogenates. In VPA given group, LPO and SA levels, and ALP, TF, MPO activities significantly increased and GST, CAT, GPx activities significantly decreased compared to control group. A marked morphological damage was detected in the VPA group. Ameliorative effects of edaravone were observed in SA, TF, CAT, GPx parameters and histological examination in the VPA group. Therefore, edaravone may be effective in moderation and/or reduction of toxic effects of VPA on pancreas.
Keywords :

Valproic acid; edaravone; pancreas; tissue damage; antioxidant and oxidant parameters